The Confirmation | Clive Owen's downbeat Seattle dad strives to hang on to his dignity, and his son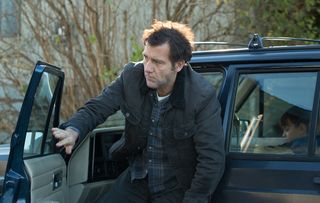 A 'Bicycle Thieves' for Seattle.
Clive Owen is terrifically good as a hangdog, browbeaten dad who gets to bond with his estranged eight-year-old son in unusual circumstances in the very winning comedy-drama The Confirmation.
Owen's unemployed Seattle carpenter Walt is at a very low ebb when he takes charge of his son Anthony (Jaeden Lieberher, also terrific) for the weekend while his devout ex-wife (Maria Bello) and her new husband (Matthew Modine) are away. A recovering alcoholic, he's just been served with an eviction notice and his car has broken down. Then his toolbox gets stolen.
Without it he won't be able to take up a new offer of work. So he drags Anthony along with him as he embarks on a desperate search for the thief. And as they criss-cross the neighbourhood, visiting bars and pawnshops, and finding help – which mostly adds up to hindrance - from a variety of oddball similarly hard-up characters, Walt slowly gets to reconnect with his son.
Weather-beaten dignity
Written and directed by Bob Nelson (who scripted the Oscar-nominated Nebraska), The Confirmation grows on the viewer in a low-key and gentle way. As does its woebegone protagonist. At first, you'll probably be inclined to write Walt off as a feckless deadbeat. And then as the story unfolds you'll come to appreciate his determination and decency. Owen does a great job of embodying Walt's weather-beaten dignity. And his young co-star (familiar from St Vincent and Midnight Special) proves an excellent foil. Indeed, Nelson uses Lieberher's wide-eyed innocence to great comic effect, particularly in the pair of scenes in the confessional that bracket the film.
In the first, Anthony can't think of any sins he's broken. Forty-eight or so hours later following a series of escapades with his father, he has a whole litany of crimes to confess. In between, Nelson also pays deft homage to Italian neo-realist classic Bicycle Thieves, another tale of a despondent father and young son encountering other folk in equally desperate straits during their frantic quest to retrieve a crucial stolen belonging.
Certificate 12A. Runtime 97 mins. Director Bob Nelson
The Confirmation debuts on Sky Cinema Premiere on Tuesday 22 August. Available on DVD from Precision Pictures.
https://www.youtube.com/watch?v=uG2ovjUD5AE
Get the latest updates, reviews and unmissable series to watch and more!
Thank you for signing up to Whattowatch. You will receive a verification email shortly.
There was a problem. Please refresh the page and try again.