Crazy Heart - Jeff Bridges is on song as a washed-up country music star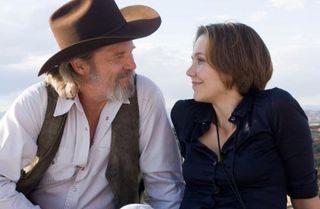 Jeff Bridges has already won a Golden Globe for his portrayal in Crazy Heart of a down-on-his-luck country singer – and he's a firm favourite to walk off with an Oscar in a few weeks too.
Modelled on such hard-living country music legends as Merle Haggard and Willie Nelson, Bridges's paunchy, raddled Bad Blake is a broken-down, alcoholic former star reduced to playing bars and bowling alleys. He gets a chance at redemption, however, when he meets Maggie Gyllenhaal's young Santa Fe journalist, single mother Jean, and charms her into bed.
An unlikely romance ensues and Bad bonds with Jean's four-year-old son, giving him the motivation to turn his life around, but his demons - and the booze - aren't easily conquered.
We've seen this sort of thing many times before - not least in the 1983 movie Tender Mercies, which won an Oscar for Robert Duvall, who pops up here as Bad's supportive best friend. Crazy Heart (made by first-time director Scott Cooper and based on Thomas Cobb's 1987 novel) is too sentimental and predictable to be a classic, but the songs are impressively authentic and Bridges delivers a superb performance. If he wins the Oscar, don't write it off as a lifetime achievement award.
On general release from 19th February.
Get the latest updates, reviews and unmissable series to watch and more!
Thank you for signing up to Whattowatch. You will receive a verification email shortly.
There was a problem. Please refresh the page and try again.