Awards Season | James Cameron & Avatar rule at the Golden Globes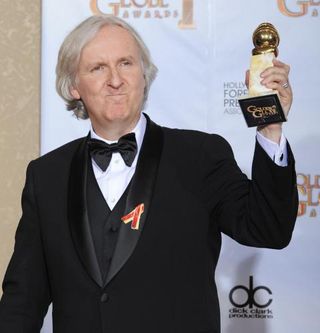 James Cameron is King of the Globes after carrying off the prizes for Best Drama and Best Director for his 3D sci-fi epic Avatar at last night's Golden Globe film awards. He did the same 12 years ago with Titanic – a big pointer that Avatar is going to clean up at the Oscars on March 7th.
Last year's big success story was, of course, Slumdog Millionaire, but the Brits came away empty handed this time with disappointment for thespians Emily Blunt, Carey Mulligan, Helen Mirren and Colin Firth, all nominees in the acting categories.
The only Brit left grinning last night was Ricky Gervais, who hosted the event in typically irreverent style. Amid his sly digs at cosmetic surgery, Jennifer Aniston and Colin Farrell, was this jab at a tarnished Hollywood legend:
"I like a drink as much as the next man," he quipped, sipping from a glass of beer. "Unless the next man is Mel Gibson."
Trust Meryl Streep to keep things real, though, reminding everyone of the tragedy in Haiti after picking up a Best Actress award for her hilarious performance as celebrity chef Julia Child in Julie & Julia:
"I'm really honestly conflicted about how to have my happy-movie-self in the face of everything in the real world," she revealed.
Other acting awards went to Jeff Bridges, for Crazy Heart, surprisingly pipping the much-fancied George Clooney (Up in the Air) to Best Actor; Robert Downey Jr, for Sherlock Holmes, another shock win; and Sandra Bullock for The Blind Side.
Less surprising, at least to me, were the Best Supporting Actor/Actress awards to Christoph Waltz for Inglourious Basterds and Mo'Nique for Precious, and the Best Animated Film award for Up. Expect repeat performances in these categories at the Oscars in two months' time.
Here's a full list of last night's awards:
Best Picture, Drama: Avatar Best Picture, Musical or Comedy: The Hangover Best Actor, Drama: Jeff Bridges, Crazy Heart Best Actress, Drama: Sandra Bullock, The Blind Side Best Director: James Cameron, Avatar Best Actor, Musical or Comedy: Robert Downey Jr, Sherlock Holmes Best Actress, Musical or Comedy: Meryl Streep, Julie and Julia Best Supporting Actor: Christoph Waltz, Inglourious Basterds Best Supporting Actress: Mo'Nique, Precious: Based on the Novel 'Push' by Sapphire Best Screenplay: Jason Reitman and Sheldon Turner, Up in the Air Best Animated Film: Up Best Foreign Language Film: The White Ribbon Best Original Score: Michael Giacchino, Up Best Original Song: The Weary Kind (written by Ryan Bingham, T Bone Burnett), Crazy Heart
Get the latest updates, reviews and unmissable series to watch and more!
Thank you for signing up to Whattowatch. You will receive a verification email shortly.
There was a problem. Please refresh the page and try again.