Cult of Chucky (2017) | Child's Play's killer doll returns to wreak more horror havoc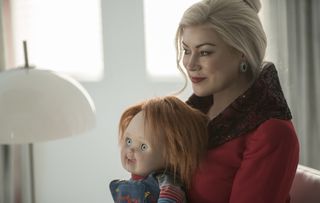 Killer doll Chucky returns to terrorise the luckless Nica (Fiona Dourif), now incarcerated in an isolated mental institution in this seventh outing of the long-running horror franchise.
Picking up four years after the massacre of her family in Curse of Chucky, an incarcerated Nica (Fiona Dourif) believes she is guilty of the crimes and is transferred to an isolated mental institution in Cult of Chucky. When the killer doll starts targeting her fellow inmates, Nica comes to her senses.
Yet no one, including her dubious psychiatrist (Michael Therriault), will believe her. Her only hope is a grown-up Andy Barclay (Alex Vincent), who first encountered the possessed plastic toy in 1988's Child's Play. But Nica had better watch her back as Chucky's bride, Tiffany (now possessing the body of actress Jennifer Tilly), has plans of her own…
Writer-director and original creator Don Mancini ramps up the scare-factor for this seventh outing of the long-running horror franchise with some elaborate death scenes and stylish camera-work that makes atmospheric use of the film's claustrophobic Brutalist hospital, while the snowbound setting casts a dreamlike quality over the proceedings – which adds to the suspense as you never know what is real or what is imagined.
Mancini, meanwhile, has great fun messing with our heads by having two Good Guy Dolls go on the prowl, while the smashed-in head of another is being used as a sadistic plaything by Andy. Could they all be a figment of Nica and Andy's imagination or are there now three terrifying toys on the loose?
Certificate 18. Runtime 87 mins. Director Don Mancini
Cult of Chucky is available on Blu-ray & DVD from 23 October from Universal Pictures Home Entertainment.
https://www.youtube.com/watch?v=ytcEmtee2OE
Get the What to Watch Newsletter
The latest updates, reviews and unmissable series to watch and more!