Dark Shadows - Johnny Depp camps it up again in Tim Burton's chaotic vampire romp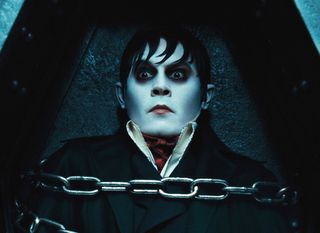 (Image credit: Courtesy of Warner Bros. Picture)
Tim Burton and Johnny Depp are back for their eighth screen collaboration with campy horror comedy Dark Shadows and the result is very much what you'd expect from their previous outings: good on look and atmosphere, poor on plot and narrative drive.
It's based on a cult TV series that aired in the US from 1966 to 1971 but remains unseen in the UK as far as I'm aware. Described as television's first 'gothic soap opera', the series apparently generated considerable unintentional comedy from its on-the-hoof filmmaking and low production values. Burton's slick and expensive big-screen version aims for the funny bone from the off, taking considerable pains to evoke a cheesiness that was effortlessly achieved by the original. Depp, the perfect star for this kind of artifice, plays a dandyish vampire who emerges from two centuries of entombment to find himself in the strange new world of 1972 America.
The heir to an 18th-century New England fishing empire, Depp's Barnabas Collins was turned into a bloodsucker after spurning the love of Eva Green's voluptuous witch Angelique, who both cursed and buried him. Accidentally dug up in 1972, he discovers that his once-imposing home, Collinwood Manor, has fallen to rack and ruin, and so has his family, its wealth depleted by ruthless business rival Angie, the renamed and still living Angelique.
Barnabas immediately resolves to restore the Collins' fortune and moves in with his dysfunctional descendants: matriarch Michelle Pfeiffer, seedy uncle Jonny Lee Miller, sulky teen Chloë Grace Moretz and haunted 10-year-old Gully McGrath; and their oddball retainers: tipsy shrink Helena Bonham Carter, cranky caretaker Jackie Earle Haley and enigmatic nanny Bella Heathcote, who seems to be the reincarnation of Barnabas's long-lost love.
That's a lot of plates to keep spinning at once and, predictably, Burton ends up with heaps of shattered crockery. But for all the film's faults there's a good deal of entertainment to be had along the way. Burton and screenwriter Seth Grahame-Smith (author of mashup novels Abraham Lincoln: Vampire Hunter and Pride and Prejudice and Zombies) poke affectionate fun at the decade that taste forgot, decking the sets with such 70s icons as lava lamps and chopper bikes, and stuffing the soundtrack with equally iconic 70s music, including the Moody Blues' Nights in White Satin and the Carpenters' Top of the World ('Reveal yourself, tiny sorceress,' Barnabas exclaims on encountering a TV set showing Karen Carpenter performing the song).
Another relic of the decade, Alice Cooper, pops up in person when the Collins stage a 'Happening', looking even more undead than Depp's vampire. To their guests, the Collins clan describe the mysterious Barnabas as a long-lost relative, but it's clear to us that he's more closely related to another Depp creation, Pirates of the Caribbean's gaudy Jack Sparrow. As with the Pirates' films, the story often stalls while Depp does his stuff. His fish-out-of-water vampire is roguish, mannered and a hoot, as you'd expect, but this time it's Green's wild-eyed pale-skinned seductress who really sinks her teeth into the film.
On general release from Friday 11th May.
Get the latest updates, reviews and unmissable series to watch and more!
Thank you for signing up to Whattowatch. You will receive a verification email shortly.
There was a problem. Please refresh the page and try again.