Fantastic Beasts and Where to Find Them | Eddie Redmayne's magical hero works wonders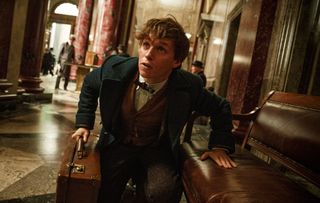 (Image credit: Jaap Buitendijk)
Move over Harry. The Potterverse has a new hero. Newt Scamander, played with bags of beguiling, diffident charm by Eddie Redmayne, takes on the boy wizard's mantle and proves that JK Rowling has conjured up another winner.
His first screen outing, Fantastic Beasts and Where to Find Them is a smart cinematic spin-off from the spoof textbook that Rowling wrote in aid of Comic Relief in 2001. Required reading for Harry Potter in his first year at Hogwart's, the book was purportedly the work of a young English magizoologist named Newt Scamander. Now we get to meet him in the flesh at the moment he arrives at New York's Ellis Island in 1926, his incredibly capacious suitcase packed with magical creatures.
A mix of bashfulness and enthusiasm, Redmayne's Newt has the air of an overgrown schoolboy, right down to his ungainly manner and slightly pigeon-toed walk. He is also, like his future boarding school reader, idealistic and brave. The wizarding world's David Attenborough, he is a humane champion of the creatures he studies, believing they should be protected rather than killed.
"His magical menagerie"
Unfortunately, he's barely stepped foot in New York before some of his magical menagerie breaks loose after he accidentally swaps suitcases with a No-Maj (as Muggles are known in America) named Jacob (Dan Fogler). Sure enough, his beasts - including a mischievous platypus-like kleptomaniac known as a niffler - are soon creating havoc in the city.
It could not be a more inopportune time for the mayhem. America's magical folk are at odds over how to deal with the No-Maj world. Meanwhile, a tub-thumping zealot named Mary Lou Barebone (Samantha Morton) is trying to rouse her fellow citizens to the presence of witches in their midst. And an extremely dangerous dark magical force is at large.
"Danger and derring-do"
Redmayne's Newt is soon in the thick of things, trying to recapture his escaped beasts while simultaneously evading the clutches of the local wizarding authorities, MACUSA (Magical Congress of the United States of America). He gets help from Fogler's tubby, enormously endearing Jacob, a factory worker who dreams of opening his own bakery; and from demoted MACUSA agent Tina Goldstein (Katherine Waterston from Inherent Vice) and her bubbly mind-reading sister Queenie (singer Alison Sudol). As pandemonium mounts, this quartet proves to be the only ones who can avert disaster.
Director David Yates, maker of the last four Harry Potter films, handles all this tremendously well, pulling off moments of high-spirited comedy and episodes of danger and derring-do with dash and verve. Production designers Stuart Craig (a Potter veteran) and James Hambridge perform marvels with their evocation of a Jazz Age magical metropolis living cheek by jowl with Prohibition-era New York. Coleen Atwood's splendid costumes and Philippe Rousselot's cinematography add to the wonder.
But it's Rowling who deserves the most kudos. Her imagination as capacious as Newt's suitcase, she displays total assurance in expanding the Harry Potter universe into a different time period and continent. The setting may be new for Rowling, but the message of tolerance underpinning the narrative is as timely as ever. Fantastic Beasts and Where to Find Them is Rowling's first screenplay and marks the first in a proposed five-film series. If they are as thoroughly captivating as this giddily enjoyable fantasy adventure then we are in for a treat.
Certificate 12A. Runtime 133 mins. Director David Yates
Fantastic Beasts and Where to Find Them is on general release.
https://www.youtube.com/watch?v=VYZ3U1inHA4
Get the latest updates, reviews and unmissable series to watch and more!
Thank you for signing up to Whattowatch. You will receive a verification email shortly.
There was a problem. Please refresh the page and try again.