Film review | Hugo - Scorsese turns children's storyteller with a dash of Parisian panache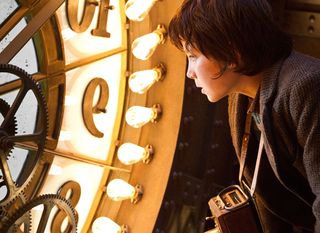 Martin Scorsese's first ever film for children, Hugo is both a joyful and enchanting adventure tale and a loving tribute to the early days of cinema and one of its neglected pioneers.
Based on the award-winning novel The Invention of Hugo Cabret by Brian Selznick, the film takes place in 1931 Paris and revolves around a resourceful young orphan (Asa Butterfield from The Boy in the Striped Pyjamas) who lives a clandestine existence behind the clocks of one of the city's biggest train stations.
Since the death of his father (a charming Jude Law in a brief role), Hugo has sought solace in completing their cherished project of repairing a broken automaton, an intricate clockwork mannequin. His attempts to scavenge the parts he needs, while dodging Sacha Baron Cohen's zealous station inspector, bring him into contact with the crotchety owner of the station's toy booth (Ben Kingsley) and his spirited goddaughter, Isabelle (Kick-Ass girl Chloe Grace Moretz).
It turns out that Kingsley's disheartened Papa Georges is as much in need of tender restoration as the automaton. Before both feats can be achieved, the spindly waif and his new friend enjoy a series of escapades in and around the station - filmed with dash and humour in exhilarating 3D - in the course of which they and we learn Papa Georges's full identity and his importance to the history of cinema.
Cinematic history is, of course, a subject dear to Scorsese, who has made it his mission to honour great filmmakers and preserve their legacy. He puts this passion on screen in Hugo, affectionately recreating some iconic scenes from early silent cinema and interweaving them into a touching and exciting tale of childhood adventure.
On general release from Friday 2nd December 2011.
https://www.youtube.com/watch?v=UGTfCw1x98A
Get the latest updates, reviews and unmissable series to watch and more!
Thank you for signing up to Whattowatch. You will receive a verification email shortly.
There was a problem. Please refresh the page and try again.