Gerry Anderson's Invasion: UFO gets an exclusive HD release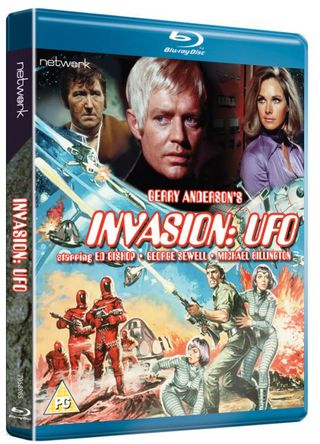 Ahead of the restored Blu-ray release of Gerry Anderson's cult 1970s sci-fi series UFO later this year in the UK, the feature-length compilation Invasion: UFO is now available to buy on Blu-ray exclusively through: networkonair.com.
Created on videotape for syndication in Europe and America in the late-1970s, Invasion: UFO is an amalgamation of the episodes Identified, Computer Affair and Reflections in the Water. To bridge continuity gaps, segments from ESP and Confetti Check A-OK were also used, while the ending was taken from The Man Who Came Back. If you have never seen the series before, then this makes for fantastic taste of things to come.
Earth's greatest fear becomes a reality when UFOs are finally confirmed – the aliens come from a dying planet millions of light years away, seeking human organs to repair their own decaying bodies. And mankind's only hope at stopping the alien terror is SHADO, a top secret defence organisation headed up by Edward Straker (Ed Bishop), a former American Air Force Colonel, and his loyal team including first officer (George Sewell) Alex Freeman, computer specialist Virgina Lake (Wanda Ventham, aka Benedict Cumberbatch's mum) and former test pilot Paul Foster (Michael Billington).
Having been resized in full 16:9 widescreen from restored High Definition elements sourced from the original 35mm negatives, Invasion: UFO looks better than it has ever been, and is presented here with both original mono and Dolby 5.1 soundtracks. The special extras include the original 1980 videotape version, the 1980 trailer, full-frame opening and end titles, and textless end titles.
Invasion: UFO is available exclusively from networkonair.com (opens in new tab).
https://youtu.be/qrBiZ9poDKQ
Get the latest updates, reviews and unmissable series to watch and more!
Thank you for signing up to Whattowatch. You will receive a verification email shortly.
There was a problem. Please refresh the page and try again.