Gifted | Chris Evans and Mckenna Grace turn on the charm in this custody battle drama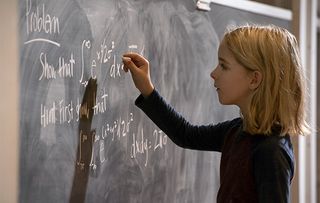 (Image credit: © 2017 Twentieth Century Fox Fi)
Rarer than radium.
What's best for the gifted child? That's the question posed by this engaging comedy-drama from director Marc Webb, returning to the indie realm of his 2009 debut (500) Days of Summer after two blockbuster forays, The Amazing Spider-Man and its sequel.
He does, however, have a superhero as his leading man in the form of Captain America's Chris Evans, here playing Frank, a stubbly blue-collar hunk who fixes boats for a living, somewhere in coastal Florida. And you could say that Frank's seven-year-old niece, Mary (Mckenna Grace), whom he has been raising alone, has her own superpower: she is a mathematical genius with a mind 'rarer than radium'.
Non-trivial zeros.
Frank wants Mary to have a normal childhood, unlike his hot-housed sister, another maths prodigy, who killed herself when Mary was six months old. But this puts him at odds with his own estranged mother, Evelyn, who is wealthy, snooty and British, and played with tart disdain by Lindsay Duncan.
When Evelyn turns up on the scene (our first evidence that Frank is far from the hick he appears) the stage is set for a mighty custody battle. To Evelyn, Frank's easy-going care of Mary amounts to negligence, while Frank fears his niece will spend her childhood discussing non-trivial zeros with a bunch of old Russian guys if left in Evelyn's charge. So, what outcome is best for Mary?
In solving this puzzle, Gifted is undeniably contrived and manipulative. Yet even if we can see this particular cinematic equation's workings, Webb and his fine cast put things together with such charm and humour that you probably won't mind your heartstrings being gently tugged.
Certificate 12. Runtime 101 mins. Director Marc Webb
Gifted available on DVD & Digital from 20th Century Fox.
https://www.youtube.com/watch?v=nSj69ZW5QQ8
Get the latest updates, reviews and unmissable series to watch and more!
Thank you for signing up to Whattowatch. You will receive a verification email shortly.
There was a problem. Please refresh the page and try again.