Golden Years | Film review - West Country pensioners turn bank-robbing Bonnie & Clyde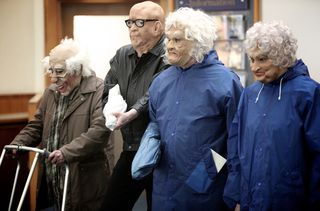 Shopping trolley in tow, West Country pensioners Bernard Hill and Virginia McKenna seek payback for the loss of their life savings by turning bank-robbing Bonnie and Clyde in this sedate crime comedy co-written by director John Miller and DIY SOS presenter Nick Knowles.
That the duo's robbery spree is such a gentle affair is the source of many of the movie's gags – their getaway car is a Volvo with a caravan on the back and their bank targets chosen by their proximity to National Trust properties – but the geriatric pace means that the laughs are on the gentle side, too.
The filmmakers are clearly aiming to recapture the spirit of vintage Ealing Studios comedies about plucky underdogs kicking back against the system but fall well short of those classics, despite sterling support from an impressive muster of old-timers, including Una Stubbs, Simon Callow, Phil Davis and Alun Armstrong.
Golden Years deserves kudos, though, for having pointed fun with the way society renders the old invisible. After all, Hill and McKenna's retired couple are the very last people anyone – least of all the brash permatanned copper leading the investigation (Brad Moore) – would suspect of pulling off a series of heists.
Certificate 12A. Runtime 96 mins. Director John Miller
https://www.youtube.com/watch?v=SemaqycU_l0
Get the latest updates, reviews and unmissable series to watch and more!
Thank you for signing up to Whattowatch. You will receive a verification email shortly.
There was a problem. Please refresh the page and try again.