Horrors of Malformed Men (1969) | The Japanese cult cinema oddity on Blu-ray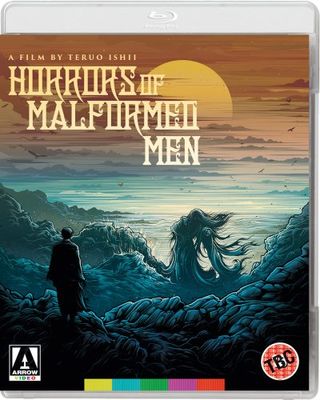 Arrow Video presents the cult 1969 Japanese arthouse mystery Horrors of Malformed Men in a brand-new 2k restoration on Blu-ray
Medical student Hirosuke Hitomi (Teruo Yoshida) escapes the asylum in which he has been wrongfully-confined and stealthily assumes the identity of a recently-deceased nobleman with whom he bears an uncanny resemblance. Hirosuke eases his way into the nobleman's household and his dead double's marital bed.
But as long-repressed memories begin to bubble to the surface, he soon finds himself drawn to a remote isle where he is confronted by a mad scientist (Tatsumi Hijikata), and discovers the key that will unlock some long-suppressed mysteries of his own…
Withdrawn from cinemas by its own studio after its original scandalous release nearly 50 years ago, this nightmarish tale directed by cult director Teruo Ishii is among the very best screen interpretations of Japanese author Edogawa Rampo's macabre brand of horror-fantasy fiction. Boasting astonishing carnivalesque art design and haunting performances, its a unique oddity of Japanese cult cinema that must be seen to be believed.
The Arrow Video Blu-ray release includes a brand new 2K restoration of the film presented on High Definition (1080p) Blu-ray and newly-translated optional English subtitles.
The special features include two audio commentaries by Japanese cinema experts Tom Mes and Mark Schilling, a video interview with Toei exploitation movie screenwriter Masahiro Kakefuda, an interview with filmmakers Shinya Tsukamoto and Minoru Kawasaki on director Teruo Ishii, footage of Ishii and Mark Schilling at the Far East Film Festival, gallery, trailer and a collector's booklet.
https://www.youtube.com/watch?v=nArLPDsEZZI
Get the latest updates, reviews and unmissable series to watch and more!
Thank you for signing up to Whattowatch. You will receive a verification email shortly.
There was a problem. Please refresh the page and try again.