I Vitelloni (1953) | Blu-ray/DVD release - Federico Fellini's masterpiece gets a striking HD restoration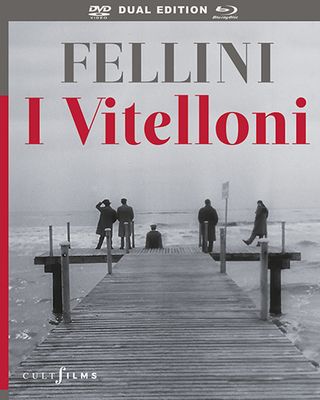 I Vitelloni arrives in dual edition format including its first ever UK Blu-ray version alongside the DVD and digitally on all UK platforms, courtesy of CultFilms.
'Arguably Fellini's masterpiece' Leonard Maltin
'One of the top dozen films of all time... Fellini's most beautiful film' New York Magazine
'The best of Fellini went into this bleakly funny study of five young men adrift in the wasteland of their provincial home town... Beautifully shot and performed, and governed by an inextricable mixture of affectionate sympathy and acid satire' Time Out
The original slacker film that spawned an entire genre, I Vitelloni (aka 'The Young Bucks') is the story of a group of five long-time mates who are still coming of age in their thirties. Mostly unemployed and too old to be kids, they struggle with their uncertainties about settling down in their Italian seaside town. Fausto (Franco Fabrizi), the leader of the group, finds himself forced into a shotgun wedding and into a boring job. Shirking his unwanted responsibilities, Fausto clings to the role of Casanova and wide-boy…
Although director Federico Fellini left his hometown Rimini as a teenager, his portrait of the aimless young men who stayed on is closely modelled on his own experiences, and mirrors the important social changes of 1950s Italy.
Rooted in Italian neo-realism and boisterously funny, I Vitelloni holds true to Fellini's signature style with its delectable and dreamy cinema of weirdness, and features another terrific score from the director's long-time composer Nino Rota.
Winner of the Silver Lion at the Venice Film Festival in 1953, it has also had a lasting effect on generations of film-makers, including Martin Scorsese, whose Mean Streets was modelled on this film; while Stanely Kubrick named it as one of his top favourite films.
The Blu-ray/DVD release features a new HD restoration and re-grading with additional further restoration uniquely for CultFilms, new improved English subtitles and Becoming Fellini, an exclusive video essay by author Guido Bonsaver. Out today (Monday 27 August).
https://youtu.be/o0AKtyE-Pa8
Get the latest updates, reviews and unmissable series to watch and more!
Thank you for signing up to Whattowatch. You will receive a verification email shortly.
There was a problem. Please refresh the page and try again.