In the Heart of the Sea | Film review - Ron Howard's epic maritime adventure is all at sea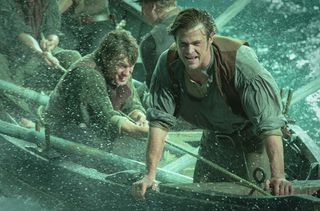 (Image credit: Jonathan Prime)
No stranger to tales of extreme real-life peril and heroism, Ron Howard takes the helm for this epic adventure based on the early-19th-century maritime disaster that inspired Herman Melville's Moby-Dick.
As you'd expect from this steady Hollywood hand, In the Heart of the Sea is a shipshape, solidly crafted tale, but for all its scenes of danger and daring the fate of the crew of the New England whaling ship Essex proves nowhere near as stirring as the ordeal faced by the astronauts in Apollo 13.
Not that the sailors' experiences are any less daunting than their 20th-century counterparts. They are the men who during a voyage to the Pacific in 1820 encountered the real-life original of the monstrous, seemingly vengeful white whale immortalised by Melville in his great novel.
http://www.youtube.com/watch?v=Xs-JfPjgiA4
Howard does his best to heighten the impact of this confrontation, framing the story with a visit 30 years later by Ben Whishaw's avid Melville to the ship's last living survivor, Tom Nickerson (Brendan Gleeson), still mentally scarred by his experiences and reluctant to revisit them.
Then there is the clash of wills on board the Essex itself, between Chris Hemsworth's strapping but low-born first mate, Owen Chase, and the ship's blue-blooded but unpractised captain, George Pollard (Benjamin Walker).
Unfortunately, the film's script (adapted from the bestselling nonfiction book by Nathaniel Philbrick) is far too creaky to make the most of the men's run-ins, while the all too obviously fake computer-generated effects suck the tension out of the showdowns between ship and beast.
Certificate 12A. Runtime 122 mins. Director Ron Howard
Get the latest updates, reviews and unmissable series to watch and more!
Thank you for signing up to Whattowatch. You will receive a verification email shortly.
There was a problem. Please refresh the page and try again.