Indiana Jones shows his age, Mick Jagger struts his stuff, and a new action star rises in the East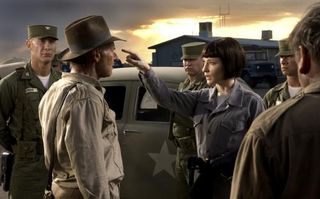 "Not as easy as it used to be," groans Harrison Ford's swashbuckling archaeologist after a punishing burst of derring-do in the opening scene of Indiana Jones and the Kingdom of the Crystal Skull. A wry acknowledgement of the time that's passed since Indy's last big-screen adventure, the words could just as easily come from the sexagenarian star himself or, indeed, from director Steven Spielberg or executive producer George Lucas.
It's been 19 years since we last saw Indy in the cinema, battling wartime Nazis in Indiana Jones and the Last Crusade, and in the meantime a stream of younger and fitter stars, including Matt Damon's Jason Bourne and Daniel Craig's James Bond, have set bruising new standards for muscular screen action.
Ford, who turned 65 during filming, actually looks in pretty good shape in the movie, but neither his surprising vigour nor the presence of Shia LaBoeuf as the young greaser (modeled on Marlon Brando's biker in The Wild One) who becomes Indy's sidekick can prevent the franchise from showing its age.
Of course, the Indiana Jones movies – Lucas and Spielberg's nostalgic homage to the Saturday-morning adventure serials of their youth - always did have a wilfully old-fashioned feel to them. Set in 1957, Kingdom of the Crystal Skull's story, which sees Indy trying to stop Cate Blanchett's rapier-wielding Russian parapsychologist and her team of Soviet agents from seizing a legendary crystal skull with psychic powers and taking over the world, is a conscious throwback to the era's sci-fi B movies.
But the kind of action that was funny and exciting in Raiders of the Lost Ark now looks incredibly dated. When Indy dukes it out with a hulking Russian soldier, the old-school two-fisted slugfest rapidly becomes boring. Even more unforgivably, during the film's interminable stretches of exposition, Ford's Indy comes across as a dull pedant.
Now and then the movie sparks into life. There's a chilling sequence early in the film in which Indy stumbles into a suburban neighbourhood, discovers that it's populated entirely with mannequins and realises he's in the middle of a nuclear test site with only seconds to save himself. The audacious way he escapes death, however, has already given rise to a phrase (akin to Happy Days' "jumping the shark") that denotes the moment when a film franchise exceeds its sell-by date - "nuking the fridge".
By the time Kingdom of the Crystal Skull reaches its prolonged, overly CGI-assisted finale, it looks as though it's definitely time for Indy to hang up his fedora and whip.
The same can't be said of the indefatigable Mick Jagger, as is shown by Shine a Light, Martin Scorsese's lavish concert documentary filmed over two nights at New York's Beacon Theatre in 2006. Sixty-three at the time of the shows, Jagger struts, jumps and jogs his way through the band's greatest hits, from 'Under My Thumb' and 'Paint It Black' to 'Jumpin' Jack Flash' and 'Satisfaction', while Scorsese orchestrates an all-star team of 10 Oscar-worthy cinematographers to capture the action.
Over 40 years younger, and similarly tireless, JeeJa Yanin, star of the Thai martial arts movie Chocolate, is being touted as the female answer to Tony Jaa, the Asian action star whose whose trick-free Muay Thai fighting in Ong-Bak and Warrior King created a stir a few years ago with the boast: "No stunt doubles. No wire work. No CGI."
Yanin (full name Yanin Vismitananda) certainly has astonishing martial arts prowess. A taekwondo champion in her teens, she spent two years training for the movie, which was specially written for her, and a further two years shooting it. The outtakes that play over the film's credits, showing Yanin and her fellow performers getting patched up by medics over and over again, reveal just how painful and dangerous it all was.
Yanin's grace and agility are genuinely impressive. But the same can't be said of Chocolate's plot, which sees her play a young autistic woman named Zen – the daughter of a Thai gangster's tattooed moll and a Japanese gangster – who develops incredible fighting skills simply by watching her heroes (Bruce Lee, Jackie Chan and Jaa) on TV and then imitating their moves. Zen puts these to use when she and a childhood friend attempt to track down her mother's old criminal associates and retrieve the money they owe her.
This entails a succession of sequences in which Zen takes on and demolishes a stream of opponents (one scene pays homage to the legendary icehouse fight from Bruce Lee's The Big Boss, while another recalls the House of Blue Leaves battle in Kill Bill Vol. 1). I have to confess, however, that the astonishment factor quickly wears thin and that down-and-dirty, no frills Thai action movies can become just as boring to watch as their bloated Hollywood counterparts.
Get the What to Watch Newsletter
The latest updates, reviews and unmissable series to watch and more!
A film critic for over 25 years, Jason admits the job can occasionally be glamorous – sitting on a film festival jury in Portugal; hanging out with Baz Luhrmann at the Chateau Marmont; chatting with Sigourney Weaver about The Archers – but he mostly spends his time in darkened rooms watching films. He's also written theatre and opera reviews, two guide books on Rome, and competed in a race for Yachting World, whose great wheeze it was to send a seasick film critic to write about his time on the ocean waves. But Jason is happiest on dry land with a classic screwball comedy or Hitchcock thriller.