Melody (1971) | Blu-ray release - When Oliver!'s Mark Lester and Jack Wild reunited for the enchanting Alan Parker tale about young love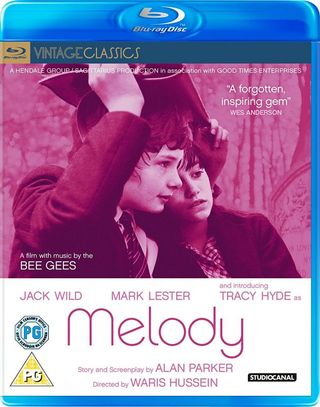 Set against the backdrop of a 1970s south London comprehensive school, Melody was director Alan Parker's debut screenplay and his first film collaboration with producer David Puttnam, and it reunited Mark Lester and Jack Wild, who starred in the 1968 musical film adaptation of Oliver!, alongside 11-year-old Tracy Hyde making her acting debut.
Quiet, well-behaved Daniel (Lester) and cheeky troublemaker Ornshaw (Wild) could not be more different but they become the best of friends. That is, until Daniel spots Melody (Tracy Hyde) at the school disco. The boys' friendship becomes jeopardised, as Ornshaw grows jealous when his Daniel seems more interested in a hanging out with a girl. Initially embarrassed by the attention, Melody comes to return Daniel's feelings, and the couple announce to their parents, teachers and friends that they want to get married and now. The adults attempt to dissuade them, but Daniel and Melody's determination leads Ornshaw to have a change of heart. He and their classmates gather together at one of the children's hideouts to 'marry' the couple, with their discovery leading to a final riotous, no-holds-barred showdown where the children stick it to the grown-ups…
While it scored huge success in Japan and South America when it was released in 1971, Melody got a lukewarm reception both at home and in the US (mostly on account of its poor promotion and being given the awkward title of S.W.A.L.K. (aka Sealed With A Loving Kiss). But it has since grown into something of a cult, with director Wes Anderson using it as the inspiration for his film, Moonrise Kingdom, while Gravity director Alfonso Cuaron cites the film as the inspiration for him going into film-making.
Melody is available now on DVD, Blu-ray and EST as part of Studiocanal's Vintage Classics Collection, and includes as special features, interviews with Lord David Puttnam, Sir Alan Parker, Waris Hussein and Mark Lester; plus a stills gallery.
https://www.youtube.com/watch?v=BcztTjiYKB0
Get the latest updates, reviews and unmissable series to watch and more!
Thank you for signing up to Whattowatch. You will receive a verification email shortly.
There was a problem. Please refresh the page and try again.