Ship of Fools (1965) | The star-studded Oscar-winning drama gets a UK Blu-ray premiere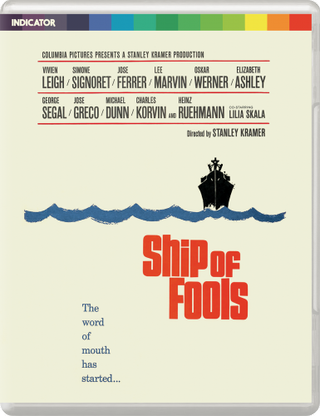 From Powerhouse Films/Indicator comes the UK Blu-ray premiere of Stanley Kramer's Oscar-winning adaptation of Katherine Anne Porter's novel.
This 1965 ensemble drama from Stanley Kramer (Hollywood's best-known 'message films' producer/director) follows the stories of a number of disparate characters travelling on an ocean liner from Mexico to Germany in 1933.
It took some effort condensing Katherine Anne Porter's mammoth 1962 allegorical novel about the rise of Nazism into a film screenplay, but Abby Mann, best known for his Oscar-winning Judgement at Nuremberg screenplay, was the best man for the job, creating a raft of characters all at sea with their personal demons and foibles, through which class, racism and the human condition are all put under the spotlight (on one vast soundstage).
While José Ferrer's German businessman holds court at the Captain's table with his highly offensive and deeply anti-semitic rants, Heinz Ruhmann's Jew and Michael Dunn's moralising dwarf are relegated to a corner table, along with Alf Kjellin's German passenger (who is ostracised because his wife is Jewish). Noteworthy is the doomed love affair between Oskar Werner ship's doctor (who has a secret heart condition) and Simone Signoret's Cuban drug-addled countess; while Lee Marvin excels at channelling his inner-Ugly American to play a retired baseball player who could never hit 'a curving ball on the outside corner'.
Making her final screen appearance is Vivien Leigh as the bored Southern belle divorcée who indecorously breaks into a solo Charleston below decks when no-one is looking. In frail health, both mentally and physically during the shoot, Leigh is hypnotic to watch, and her fabulous gowns are to die for. Popular flamenco dancer Jose Greco makes his acting debut, with a young George Segal plays a bickering painter.
Below decks, in steerage, are 600 displaced workers being deported from Cuba back to Spain. Amongst them is a man who dies trying save a dog thrown overboard. It's a scene so full of pathos but one the deftly illustrates how we are guilty of being blinkered in the face of growing threats (like the rise of Hitler and his Nazi horde).
This voyage may be a long one, but one that still holds much relevance today.
SPECIAL FEATURES: • High Definition re-master • Original mono audio • Audio commentary with Nick Redman, Lem Dobbs and Julie Kirgo • Introduction by Karen Kramer Introduction (2007) • On Board the Ship of Fools (2007, 28 mins) • Voyage on a Soundstage (2007, 11 mins) • Theatrical trailer (featuring Stanley Kramer) • Image gallery • New and improved English subtitles • Limited edition exclusive booklet
https://www.youtube.com/watch?v=AaViXh361Fc
Get the latest updates, reviews and unmissable series to watch and more!
Thank you for signing up to Whattowatch. You will receive a verification email shortly.
There was a problem. Please refresh the page and try again.