Ten of the Best from Horror Channel FrightFest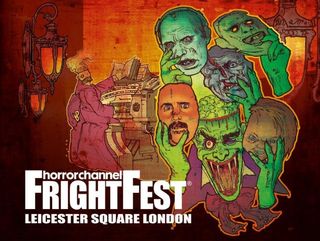 Well, Horror Channel FrightFest is over for another year and it was probably one of the best ever that I have attended with some great thrills and surprises amongst the 64 films shown over the Bank Holiday weekend at the Cineworld Leicester Square and The Prince Charles Cinema. Here's our Top 10.
TRAGEDY GIRLS Director: Tyler MacIntyre. US. 2017. 93 mins. If you are a fan of TV's Scream Queens, then you will certainly LOVE this gleefully camp Heathers meets Scream slasher in which two vain high school besties (played by Deadpool's Brianna Hildebrand and X-Men: Apocalypse's Alexandra Shipp) go on a killing spree just to increase their social media standing. With stylish cinematography, charismatic performances, and a smart script, this was a real winner at Frightfest.
CULT OF CHUCKY Director: Don Mancini. US. 2017. 91 mins. FrightFesters were treated to the World Premiere of the seventh entry in the 30-year-old Killer Doll franchise – and it did not disappoint. This time round, Chucky continues to terrorise poor Mica (Fiona Dourif), who was found guilty of the murders in 2013's Curse of Chucky. But is she just imagining things because Chuck's old nemesis Andy Barclay (Alex Vincent) seems to have Chucky's head locked up in his safe? If you want to read more (CLICK HERE (opens in new tab)). This one will be getting a Halloween release.
BETTER WATCH OUT Director: Chris Peckover. Australia/USA 2016. 88 mins. It's Christmas, and parents Patrick Warburton and Virginia Madsen go out for the evening leaving 12-year-old Luke (Pan's Levi Miller) in the care of his favourite babysitter, 17-year-old Ashley (The Visit's Olivia DeJonge). But when a brick crashes through the window reading 'You Leave, You Die', it sets in motion a series of events that you will not expect. This Yuletide home invasion horror is enormous fun, but also very dark, featuring an intelligent, genre-bending script, and great performances from the young leads – especially Miller.
KING COHEN Director: Steve Mitchell. USA 2017. 110 mins I really enjoyed this fantastic appreciation of maverick US film auteur Larry Cohen, the writer/producer/director behind TV's The Invaders and genre fare like It's Alive and The Stuff. Featuring interviews with his former stars like Yaphet (Alien) Kotto and Eric Robert, and admirers like Martin Scorsese, JJ Abrams and John Landis, plus with the legend himself (and boy, can he talk!), this is a real must-see. If you want to know more, check out my full review (CLICK HERE (opens in new tab)).
THE BAR Director: Alex de la Iglesia. Spain 2017. 104 mins. This was one of the festival's big highlights. It's life as usual at Amparo's bar in central Madrid until a group of regular customers – including hipster Nacho (Mario Casas), snooty Elena (Blanca Suárez), businessman Andrés (Joaquín Climent) and homeless beggar Israel (Jaime Ordonez) – witness two men being fatally shot as they try to leave. Who is responsible? Why aren't the police doing anything? And why are there people wearing Hazmat suits in the square? Alex de la Iglesia's black comic chiller puts human nature under the microscope, and it's not a pretty picture. Death, selfishness, survival and hypocrisy are all treated with great wit and dark humour.
FREEHOLD
Director: Dominic Bridges. UK. 2017. 79 mins. The feature debut from commercials director Dom Bridges and written by Outpost's Rae Brunton is a twisted fusion of claustrophobic black comedy and urban morality tale, but with a bizarre spin on the home invasion premise. Contortionist Orlan (Javier Botet) secretly moves into the flat of slimy real estate agent Hussein (Mim Shaikh) by occupying the hidden spaces of his flat (like his cupboards and wardrobe). It's all part of the master of concealment's plan to slowly unravel Hussein's life and drive him insane. But does he succeed? Well, hopefully Bridges' searing comment on race, the house market (and Brexit) will get a proper UK release soon so you can find that out for yourself. This is a cracker of a debut from Bridges.
VICTOR CROWLEY Director: Adam Green. US. 2017. The big surprise at FrightFest was Adam Green unveiling the world premiere of his fourth entry in the Hatchet series with the film's star Kane Hodder in attendance. Hatchet 3 survivor Andrew Long (Parry Shen), is now a minor celebrity who ends up back on Crowley's swamp turf (which has been turned into a tourist attraction) when he agrees to a $1million fee to participate in a TV documentary. But when the crew's plane crashes and wannabe filmmaker Chloe (Katie Booth) invokes Crowley's spirit (via clips on the internet), the slaughter begins all over again. Made in secret over two years, this gory fun ride is packed with inventive, and very bloody, kills and some LOL campy humour.
68 KILL Director: Trent Haaga. USA. 2017. 93mins Chip (Criminal Minds' Matthew Gray Gubler) is a hapless nice guy who pumps sewage for a living and is completely infatuated with his trailer park ex-stripper girlfriend Liza (AnnaLynne McCord). But she turns out be crazier than he first imagined when her plan to rob her sugar daddy goes horrible wrong. This fast-paced thriller is full of surprises, great fun and boasts some quite extreme violence.
DEATH NOTE Dir Adam Wingard. US. 2017. 101 mins. This Netflix-produced take on the Japanese manga comes from director Adam Wingard (You're Next) and follows high school student Light Turner (Nat Wolff) who turns self-appointed judge, jury and executioner when he comes across a supernatural notebook in which you write the name of someone you wish to die. When he begins to kill all those he deems unworthy of life, a reclusive detective (Lakeith Stanfield) sets out to end his reign of terror. Featuring great Final Destination-style set pieces, excellent performances, superb John Carpenter-inspired synth score from Atticus Ross and Leopold Ross, and Willem Dafoe voicing Ryuk, the death god who becomes Light's moral compass, this is not to be missed. Catch it on Netflix now.
ATTACK OF THE ADULT BABIES Director: Dominic Brunt. UK 2017. 80 mins. Dominic Brunt is best known to What's On TV readers as Paddy Kirk in Emmerdale, but he's also a film director who has shared his passion for all things horror with his writer/actress wife Joanne Mitchell in films like Before Dawn, Bait and now this perverted shocker. A home invasion forces a mother (Kate Coogan) and two teenagers (Kurtis Lowe and Mica Proctor) to break into a country manor to steal some secret documents. Little do they know the stately pile is also where high-powered middle-aged men take refuge from daily life by dressing in nappies and having young women in nurses uniforms indulge them in their every perverse nursery whim. Brunt's blunt, bloody and bonkers satire is a gleefully grotesque carnival of bad taste, over the top gore and gross-out scatological humour and get's my vote for the weirdest entry at FrightFest to date.
WE ALSO LIKED… • Freddy/Eddy – Tini Tuellman's spine-chilling psycho suspense thriller • Leatherface – Julien Maury and Alexandre Bustillo's stunning prequel to Texas Chain Saw Massacre • Canaries – Peter Stray's alien-invading black comedy • Veronica – Carlos Algara and Alejandro Martinez-Beltran's gripping psychological twister • To Hell and Back: The Kane Hodder Story – a moving documentary about everyone's favourite Jason Voorhees from the Friday the 13th series
Get the latest updates, reviews and unmissable series to watch and more!
Thank you for signing up to Whattowatch. You will receive a verification email shortly.
There was a problem. Please refresh the page and try again.