The Changeling (1979) | Blu-ray release – The ghost story classic that scared the daylights out of Stephen King gets a 4k makeover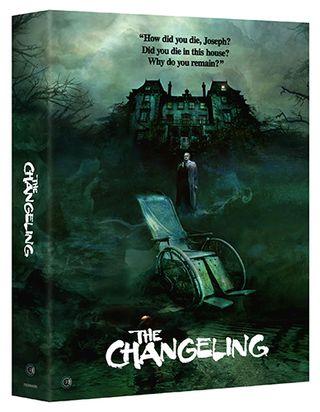 Director Peter Medak's The Changeling arrives as a limited edition collector's set with a 4k restoration on 13 August from Second Sight.
A child's ball bouncing down a flight of stairs was enough to scare the daylights out of me' Stephen King
After losing his wife and daughter in an accident, John Russell (George C Scott), an eminent composer, accepts a teaching post in Seattle. With the aid of Claire Norman (Trish Van Devere), an employee of the local Historical Society, he takes a lease on an old mansion which had been donated 12 years before by retired US senatorJoseph Carmichael (Melvyn Douglas). But when a series of strange occurrences convinces Russell that some unseen presence is attempting to communicate with him, he sets out to investigate – with nerve jangling consequences.
This is a very superior example of the haunted house thriller, whose horrors are never seen (except in flashback), from The Krays director Peter Medak, while some noisy plumbing, a hidden well, a music box, and a wheelchair covered in cobwebs all have very important parts to play.
The Changeling Limited Edition Blu-ray will be released on 13 August 2018 from Second Sight, and includes the follows special features…
• Brand new 4K scan and restoration • Limited Edition packaging featuring poster, 40 page booklet and Original Soundtrack CD • Audio commentary with director Peter Medak and producer Joel B Michaels • The House on Cheesman Park: The haunting true story of The Changeling • The Music of The Changeling: Interview with Music Arranger Kenneth Wannberg • Building The House of Horror: Interview with Art Director Reuben Freed • The Psychotronic Tourist: The Changeling Locations featurette • Master of Horror Mick Garris on The Changeling • Trailer & TV Spot • New English subtitles
Get the latest updates, reviews and unmissable series to watch and more!
Thank you for signing up to Whattowatch. You will receive a verification email shortly.
There was a problem. Please refresh the page and try again.