The Wonderful Worlds of Ray Harryhausen: Volume Two (1961-1964) | Mysterious Island, Jason and the Argonauts and First Men in the Moon on Blu-ray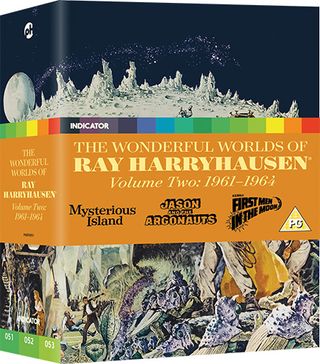 From Indicator comes this fantastic Christmas stocking filler – three classic Ray Harryhausen adventures presented in a Limited Dual Format Edition Box Set (6000 unites only) with brand new 2K and 4K restorations, and containing a wealth of new and archival extras…
Mysterious Island
(dir. Cy Endfield, 1961) 2K restoration - UK Blu-ray premiere
American Civil War prisoner Captain Cyrus Harding (Michael Craig) escapes in a balloon with other Confederate officers and end up on an unknown island in the Pacific along with shipwrecked aristocrats, Lady Fairchild (Joan Greenwood) and her niece Elena (Beth Rogan). Holed up in a cave, the plucky castways encounter strange creatures, pirates, an angry volcano and the charismatic Captain Nemo (Herbert Lom).
This action-filled adventure film, loosely based on Jules Verne's 1874 novel, provides a field day for special effects man Ray Harryhausen, who conjures up a magnificent menagerie of oversized critters: including a monstrous crab, prehistoric Phorusrhacos, a hive of giant bees, and a towering cephalopod.
The sunny Spanish locations (Sa Conca Bay in Catalonia) and atmospheric score from legendary composer Bernard Herrmann are an added delight.
Jason and the Argonauts
(Don Chaffey, 1963) | 4K restoration
With his father's kingdom in the hands of a tyrant, Jason (Todd Armstrong) sets sail with the bravest men of all of Greece aboard the Argo on a quest for the Golden Fleece. Along the way, they rescue Medea (Nancy Kovack), the high priestess of Colchis, who soon causes problems for the crew when she falls in love with Jason…
This spectacular mythological adventures remains one of the finest of its genre, and marked the pinnacle in the career of Ray Harryhausen. A landmark in the history of movie special effects, it has never been bettered (despite technological advances).
Harryhausen's Dynamation effects are delivered with amazing imagination. Jason's sword fight with a band of resurrected skeletons remains the film's highlight, while the other weird creatures including a giant bronze automaton, hungry harpies and the seven-headed Hydra.
A host of recognisable British actors provide great support, including Laurence Naismith and Nigel Green as Argus and Hercules, Douglas Wimer as Jason's nemesis Pelias, amd Michael Gwynn and Honor Blackman as Olympians Hermes and Hera.
First Men in the Moon
(Nathan Juran, 1964) 4K restoration - UK Blu-ray premiere
The world is shocked when a team of United Nations astronauts land on the Moon in 1964 only to discover that the Victorian British beat them to it – back in 1899!
In a Dymchurch nursing home, they track down the only survivor of the expedition, 91-year-old Arnold Bedford (Edward Judd)… Bedford then tells them how he travelled with his fiancée Kate (Martha Hyer) and eccentric inventor Professor Cavor (Lionel Jeffries) to the Moon in a spaceship which Cavor had coated with a revolutionary anti-gravity paste – where they discovered an insectoid population living beneath the surface.
HG Wells' 1901 science fiction tale gets the Dynamation treatment, from Harryhausen and his 20 Million Miles to Earth director Nathan Juran, based on a screenplay by Nigel Kneale (best known for his Quatermass series).
First Men in the Moon is an entertaining yarn with Lionel Jeffries going full pelt with his cranky inventor act. The film's stand out creature is Harryhausen's giant caterpillar-like 'moon-bull', while the rubber-suited Selenites look like they belong in a classic Doctor Who episode. While not the best of Harryhausen's canon, this is still a million times better than the 1967 Jules Verne-pastiche Rocket to the Moon.
These classic Harryhausen adventures are presented in a Limited Dual Format Edition Box Set (6000 units only) with brand new 2K and 4K restorations, and contain new and archival extras – including audio commentaries with the SFX legend himself and a Jason and the Argonauts commentary Lord of the Rings director Peter Jackson. There's also an exclusive 80-page collector's book packed with informative essays.
Along with Indicator's First Volume of The Wonderful Worlds of Ray Harryhausen, which you can read about HERE, this would make a super Christmas stocking filler for any armchair adventurer.
Get the What to Watch Newsletter
The latest updates, reviews and unmissable series to watch and more!