Unlocked | Noomi Rapace gets re-Bourne as a CIA agent in this middling London-set spy thriller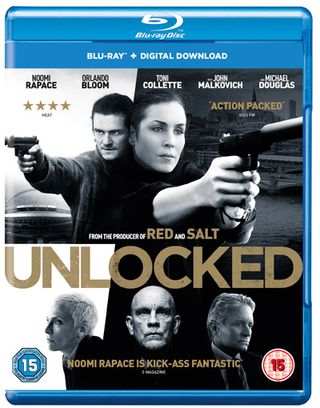 To stop the terror. They must fight the conspiracy.
Noomi Rapace takes a leaf out of Jason Bourne's book in Unlocked as a troubled CIA agent who doesn't know who she can trust when she tries to thwart an Islamist terrorist attack on London.
Rapace's spy, Alice Racine, has lost her nose for fieldwork after failing to foil an atrocity in Paris and is now working undercover in an East London immigrants' aid centre. Then she gets the call to interrogate a captured jihadi courier, apparently a crucial link in a plot to let off a biological weapon in the capital. But the assignment proves far more treacherous than she had imagined.
Hoots of derision
As spy thrillers go, Unlocked hardly breaks new ground. The switchback plotting, full of double and triple crosses, is very much par for the genre's course these days. And the appearance of Orlando Bloom in the unlikely role of a gorblimey Cockney burglar is liable to provoke hoots of derision.
That said, the movie does provide solid entertainment. Veteran director Michael Apted, maker both of the Up documentary series and the Brosnan-era Bond movie The World Is Not Enough, keeps the action moving at a far lick. And the cast is considerably classier than the script.
Michael Douglas and John Malkovich pop up as two of Alice's CIA superiors, while Toni Collette is hugely enjoyable as her British MI5 ally, whether firing off stinging put downs to the Americans ('MI5's not your mother,' 'She's your stray') or letting rip with a machine gun. Interestingly, the film pointedly goes out of its way to avoid scapegoating Muslims. The story's purportedly radical imam bends over backwards in the cause of peace and the chief villain is a wealthy white American convert, a so-called 'trust-fund jihadi'.
Certificate 15. Runtime 98 mins. Director Michael Apted
Unlocked available on Blu-ray, DVD & Digital Download from 28 August.
https://www.youtube.com/watch?v=CCqISHuTgHE
Get the latest updates, reviews and unmissable series to watch and more!
Thank you for signing up to Whattowatch. You will receive a verification email shortly.
There was a problem. Please refresh the page and try again.