Viva l'Italia! (1961) | Roberto Rossellini's celebration of Italy's national hero Giuseppe Garibaldi is a cinematic triumph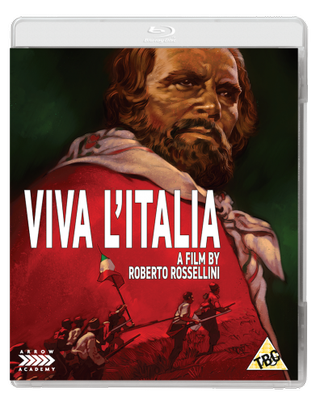 Arrow Films presents Robert Rossellini's Viva l'Italia! for the first-time ever in the UK on Blu-ray and DVD with a brand-new 2k restoration.
To celebrate the centenary of Italy in 1960, director Roberto Rossellini (Rome, Open City) was commissioned by the Italian government to make a biopic of Giuseppe Garibaldi, the country's national hero, tracing his most famous military campaign, the 1860 Expedition of the Thousand, in which he liberated the south of Italy from the Bourbons. It became the defining moment in the entire history of Italy, leading to the unification of the country.
Rossellini said of this film: 'Of all my films, I'm proudest of Viva L'Italia!. I consider it important as a work of research, the most carefully done of all my films. It is a documentary made after the event, trying to figure out what happened. I tried to place myself in front of the events of a century ago, the way a documentarist would have done who had the good fortune to follow Garibaldi's campaign with his camera.'
Featuring sweeping, majestic vistas of the Italian landscape, and using many of the locations where Garibaldi's campaign took place as he and his Camicie rosse (Red shirts) conquered Sicily (Calatafimi, Messina and Palermo), before sailing over the Strait of Messina into Calabria, where they headed north through Campania (where the strategic Battle of Volturno took place) and onto Naples (the seat of the seat of King Francis II), Rossellini's epic is as as much a spectacular visual feast as it is a powerful and important historical account of Italian Unification. It also served as a David and Goliath parable as it showed how a band of poorly-equipped and trained peasants and workers stood up against the might of a powerful army – and won!
Restored by Arrow from the original negative, and given a 2k restoration, this presentation (on Blu-ray and standard definition DVD) marks the first UK home video release of Viva l'Italia! in any format. It also includes the original Italian mono soundtracks with optional (and may I say excellent) English subtitles.
The release also features an alternate shorter cut of the film originally prepared for the US market, an interview with Rossellini's assistant on the film, Ruggero Deodato (who greatly admired the legendary neo-realist director), a visual essay on Garibaldi, and an illustrated collector's booklet.
Get the latest updates, reviews and unmissable series to watch and more!
Thank you for signing up to Whattowatch. You will receive a verification email shortly.
There was a problem. Please refresh the page and try again.