'Harry's been knocked down many pegs in the final series of Mr Selfridge,' says Jeremy Piven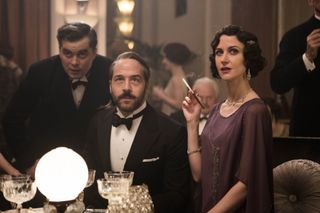 Pretty purses, delicate pearls and silk scarves draped over plush-velvet cushions – 'We'll take one of everything!' TV Times (opens in new tab) proclaims, in our best 1920s nasal voice.
We're browsing treasure-filled displays on the set of ITV's period drama Mr Selfridge, but sadly these goods are not up for grabs, not even for the cast, who would love a memento from this make-believe Oxford Street department store.
On a suitably sumptuous set, TV Times talks to Jeremy Piven (opens in new tab), aka Mr Selfridge, as he opens his super store's doors for one last series
Is this final series the best?
"There's so much going on. All the seeds we've planted with the characters and their relationships finally come into fruition.
"We're entering the homestretch now, so it's nice to feel the pressure of honouring what we've done before and making sure we get it right. I'm so proud of this show, and I really do believe this series is the best."
It's now 1928, nine years after the series-three finale when Harry discovered his fiancée Nancy Webb was trying to con him.
Business is flourishing, however, those who know the true story of Mr Selfridge will expect his fortune to fade, and fast…
"It's not necessarily the prettiest of third acts for Harry. It's his downfall, yes, but we don't want the show to get so dark that it turns people off, so we take some chances with the story.
"A visit from Mae (Katherine Kelly (opens in new tab)) certainly lightens the mood, plus she's full of fresh ideas from Paris about the store's new ready-to- wear range. Business aside, though, Mae confides in Harry the real reason for her return."
Harry looks much older in this series. He has been transformed into, erm, a 70-something, courtesy of the make-up department…?
"When we first saw Harry in series one, he was trying to prove himself. Technically, he was supposed to be 52 in the first series. But we've embraced some dramatic licence to tell the story. By the time we see him here, he's been knocked down many, many pegs.
"Harry may look older but he's none the wiser, and his head is soon turned by good-time gals, Jenny and Rosie Dolly (played by Emma Hamilton (opens in new tab) and Zoe Richards (opens in new tab)), two show-stopping, dancing sisters who, in real-life, contributed to Harry's downfall with their expensive tastes and gambling habits."
Harry just can't help himself, with the ladies, can he?
"Ultimately, the Dolly sisters represent fun and youth, plus they're performers and Harry fancies himself a showman, but his theatre is retail.
"So when he's around other people in the arts, he's enamoured of them. That's why he fell for showgirl Ellen Love [played by Zoe Tapper (opens in new tab) in series one].
"He gets tangled up with the Dolly sisters and there are many tragic moments to come, but at the same time, there is hope for Harry. He's always been very optimistic, which is one of the reasons I love playing him."
How much of the final series will mirror Harry's real-life road to ruin?
"He showered the Dolly sisters with gifts while his fortune declined rapidly during the Great Depression. It's a sad rags-to-riches-to-rags story.
"I have a lot of empathy for Harry and feel very protective of him. He was such a fascinating character, a trailblazer. He'd go and do whatever he wanted, and that's what made him so special. That's why the store exists still to this day."
Will it be difficult for you to say goodbye to Harry when you leave London life behind and head back to the US?
"Oh, yes! The museums, architecture, theatres and fantastic football matches… there's so much to do here. However, I'm lucky enough to live near the Sherlock Holmes Museum, and if there's one thing I won't miss, it's that queue! I'm a huge fan myself, but not so much that I'd spend all day queuing to see a fictional home.
"There is one saving grace, though – I pass through that line every day and they don't even notice me."
How does a Golden Globe and three-time Emmy-winning actor – he scooped these for his role as foul-mouthed Hollywood agent Ari Gold in US drama Entourage (opens in new tab) – ever manage to go undetected?
"I usually wear a hat and glasses, look at the ground and pretend I've lost something. No one wants to approach the confused guy. It works every time!
"So, if you want to know where to find me, I'm wandering outside the Sherlock Holmes Museum, looking like I've lost something…"
Mr Selfridge (opens in new tab) returns to ITV, Friday, January 8, 9.00pm.
Thank you for signing up to Whattowatch. You will receive a verification email shortly.
There was a problem. Please refresh the page and try again.