7 memorable moments from the National Television Awards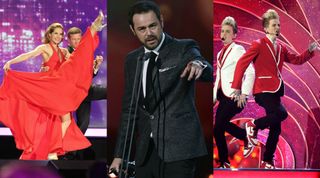 The National Television Awards, now in their 21st year, are nothing less than an institution.
The past two decades have seen surprise announcements, special performances, and Benedict Cumberbatch in board shorts.
As it's almost time for this year's edition, here are some of our favourite moments from the award show's history so far:
1. When David Tennant dramatically announced he was leaving Doctor Who.
http://www.youtube.com/watch?v=xQ86n6ziHFA&feature=oembed
David appeared via video link during the interval of his play Hamlet.
Taking a deep breath, he revealed: "When Doctor Who returns in 2010, it won't be with me."
The audience roared with surprise and horror. "I think it's better I don't overstay my welcome," he added.
2. When Jedward brought out a surprise guest: Vanilla Ice.
http://www.youtube.com/watch?v=OulemJOguzM&feature=oembed
Jedward delighted and bemused the audience with a mash-up of Under Pressure and Stop, Collaborate And Listen. And then in a surprise twist, Vanilla Ice turned up.
3. When Danny Dyer won Most Popular Serial Drama Performance.
Danny Dyer accepts the Serial Drama Award during the 2015 National Television Awards (Yui Mok/PA)
"Oi oi the O2," shouted Danny, adding as a note to himself: "Don't swear, don't swear, don't swear."
Pointing to Kellie Bright, who plays his on-screen wife Linda Carter, he said: "This is bittersweet, really, because I think Kellie deserves it to be fair… so, Kel, I'll have it Monday to Wednesday, you pick it up Thursday and Friday, I'll have it at the weekend."
He then thanked his other half, his kids and the cast, before bellowing: "Go on let's 'av it the EastEnders."
4. When Benedict Cumberbatch accepted an award in a suit jacket and board shorts.
http://www.youtube.com/watch?v=klL3l-IY1f0&feature=oembed
In 2014, Benedict couldn't be in London to collect his award for Sherlock – but he spoke by video link from LA. Where he was, apparently, by the pool. Can't blame him…
5. When Ant and Dec got just a little bit emotional.
http://www.youtube.com/watch?v=1aaXl4vaeJU&feature=oembed
The presenting duo received a landmark award, and the video montage of their achievements made them both a little weepy.
6. When host Dermot O'Leary got to dance with prima ballerina Darcey Bussell.
http://www.youtube.com/watch?v=MPqPxaySQ1g&feature=oembed
Dermot had a good go at dancing the American smooth with the Strictly Come Dancing judge in 2013.
7. When Bill Roache paid tribute to the late Anne Kirkbride.
William Roache pays tribute to Anne Kirkbride on stage during the 2015 National Television Awards (Ian West/PA)
Two days after her death, Coronation Street's Bill Roache led a personal tribute to Anne Kirkbride which left the audience in tears.
He had played Ken Barlow opposite Anne's Deidre Barlow for 40 years, but the actress passed away from breast cancer in 2015.
He said: "For over 40 years our dear friend Anne Kirkbride played the part of Deirdre and she became one of the best loved and most enduring characters on British television.
"What we'll remember the most is the vibrant, warm-hearted, loving person who came to work each day, gave us all a hug and brightened up our lives… I love you Anne."
The National Television Awards screen from 7.30pm on ITV.
Get the latest updates, reviews and unmissable series to watch and more!
Thank you for signing up to Whattowatch. You will receive a verification email shortly.
There was a problem. Please refresh the page and try again.