Amanda Redman: 'It took bravery to leave New Tricks'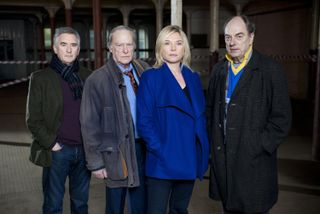 Amanda Redman reveals to TV Times magazine the real reason she's leaving hit drama New Tricks (BBC1, Tuesday) her fears for the future and why this series is the best yet…
It's been 10 years since you started playing DSI Sandra Pullman on New Tricks, and now you've decided to leave…
"I have been talking about it for some time. I've had the most fabulous 10 years, but all good things come to an end and I really wanted the chance to move on and do something different. It's part of being an actor and it was the right thing to do - otherwise you just get too comfortable."
What was filming your final series like?
"There were so many different things going on, which made it incredibly interesting. We were saying goodbye to Alun, hello to a new character played by Nicholas Lyndhurst and then I was leaving, so there was always something new. We've been together a long time so it was a very emotional series to film."
What was filming your exit like?
"They gave me a fantastic storyline to finish on and some great stuff to get my teeth into, so I thoroughly enjoyed it. I've had loads of highlights playing Sandra, but I have to say this series has been my favourite. I can't tell you too much, but I will let you know that she doesn't die because I don't like it when actors are killed off – it's an old actor superstition!"
Was leaving a very emotional experience for you?
"They purposely made my final scene very difficult, very wordy and case-related, so that I just had to concentrate and wouldn't go to pieces!"
Did you party afterwards?
"We had a big-send off afterwards and it was incredibly emotional – lots of tears were shed and lots of champagne was drunk! It was lovely. I will miss playing Sandra, but the cast are all my friends so I will still see them."
With so many cast changes, including Denis Lawson replacing James Bolam and Nicholas Lyndhurst arriving after Alun Armstrong's departure, do you think the BBC should have continued New Tricks after this series?
"I don't know. It's not got anything to do with me. The proof is in the pudding so let's see. It could be hugely successful and then it was the right thing to do, but then it might not be. It's like anything new, you never know whether it will work until the audience sees it."
Did it take a lot for you to leave the show?
"It took bravery to leave New Tricks, particularly at my age. There are loads of shows that have older men in them, but imagine New Tricks with three older women and a younger man in charge – it wouldn't happen."
Do you think there's still an issue with women in their fifties getting good roles on TV?
"I think there's still a long way to go for older women on TV. I'm always worried about finding new roles, of course I am. Who knows what's in the future? I'm getting offered things that are similar to Sandra at the moment, but I want to move away from that now. A period drama would be fab."
Get the What to Watch Newsletter
The latest updates, reviews and unmissable series to watch and more!