11 things we learned from the explosive first episode of The Island With Bear Grylls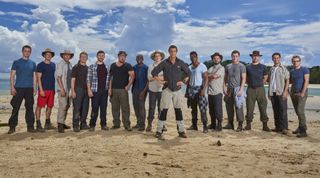 The Island with Bear Grylls premiered on Wednesday when 14 contestants headed off to a remote location to test their survival skills and survivor instinct.
The show's youngest contestant Joe, 22, was worried about being bossed because of his age while hotheads Andy and Paul clashed with other islanders and each other.
Here are 11 things we learned as the explosive series kicked off.
1. This remote island surprisingly has a lot of human rubbish floating around
That beach is covered in rubbish! Humans are terrible beings. #TheIsland
— Joe Schmo (@Jay2theOh2theEe) April 8, 2015
Anyone noticing how much rubbish is on #TheIsland #TheIslandWithBearGrylls so sad how we are destroying the ocean
— FUUD (@Fuudlondon) April 8, 2015
Human debris certainly has far-reaching effects.
2. The show reminded viewers of old ITV show Survivor from the early noughties
Loving #theisland on #Channel4 Reminds me of that old #survivor programme – missed it so much when it stopped. Well done @BearGrylls!
— Mr&Mrs (@Manarlie) April 8, 2015
So #TheIsland is basically Survivor but without the bikinis. Or the contestants' ex-s "coincidentally" turning up in the Pacific.
— Rebekah Jenkins (@RebekahBooks) April 8, 2015
Seriously guys, this is series two.
3. Many of us were wishing it was us on the island instead of them
Wish I was on the Island I don't want to go work tomorrow… #BearGrylls #TheIsland
— Midnight Wolf (@midnitewulf) April 8, 2015
I want to go on #TheIsland with @BearGrylls
— chloe marchant (@chloepoptart2) April 8, 2015
Being trapped in a secluded island with Bear Grylls can sound quite appealing.
4. There were a few who wouldn't be so keen to head over to the island
Exactly how I'd fare in @TheIsland #NoChance #SeeYaLater #TheIsland pic.twitter.com/1DeLDrPs1A
— Samuel Pritchard (@exi) April 8, 2015
OK, not everyone's built for eating creepy crawlies and getting drenched in the rain.
5. Construction worker Andy can actually build Ikea furniture
(Channel 4)
He can knock IKEA furniture together but he's not allowed to build a den on the beach! #TheIsland
— duncan roby (@duncan2912) April 8, 2015
Why wouldn't they trust Andy the Builder? He builds IKEA furniture! #TheIsland
— Graham Yaffe (@Albertstan) April 8, 2015
Nope we aren't kidding, Andy actually went on record to reveal that bit of personal information.
He seemed suitably miffed when his location choice to build survival shelters was shut down by fellow islander Paul. After all, this should be easy as building Ikea furniture.
6. The islanders were making this rookie mistake
Why are they not collecting this rainfall to drink!? #theisland
— Oli (@OliTheBlog) April 8, 2015
Didn't see them collecting all the bottles to collect rain water. Rookie mistake number 1 #theisland
— Kerri Honeysett (@kerrihoneysett) April 8, 2015
The heavens opened up, but it seemed the islanders weren't harvesting rainwater for drinking.
Don't worry though, sometime later, we had a glimpse of plastic containers which were left in the open for water collection.
7. Techies have real-life survivor skills
A victory at the mens camp as Kyle gets resourceful.. #theisland pic.twitter.com/X5nSixrUV2
— The Island (@TheIsland) April 8, 2015
COME ON KYLE. YOU SURVIVALIST WEB DESIGNER, YOU. #TheIsland
— Kirsty (@kayemdoubleu) April 8, 2015
The contestants had a good old chortle when they were introduced to web consultant Kyle.
Yet it was the tech expert who saved the day when he started a fire with just a pair of glasses.
8.We actually loved the thundering storm, within the comforts of our settee
That lightening looks incredible. #TheIsland
— Sarah Griffiths (@Sarahjiffy) April 8, 2015
#TheIsland those storms looks amazing !!!!!
— lucy (@spiceblackford) April 8, 2015
9. The island miracle that is camera batteries
No fire, no water, no food but somehow plenty of power for the camera batteries on #TheIsland !
— chrisskudder (@ChrisSkudderSky) April 8, 2015
The show must go on.
10. Bear Grylls wasn't really there… or was he?
(Channel 4)
Bear Grylls isn't even on #TheIsland
— Jonathan0834 (@Jon92Smiley) April 8, 2015
@BearGrylls watching #TheIsland now but Bear, where is this Island?
— Fera Cherilyn Julian (@fera_julian) April 8, 2015
We thought we'd see more of Bear Grylls interacting with the contestants. But it looked like the islanders were left on their own to fend for themselves without the survival expert.
11. The two people who are meant to build shelters aren't getting along
Tensions arise between Andy & Paul, two self-confessed alpha males. Can #theisland afford to lose both it's builders? pic.twitter.com/urkL8p1tlU
— The Island (@TheIsland) April 8, 2015
Nothing new there then…. 2 builders walking off the job! #TheIsland
— Emma Fisk (@Contessgadabout) April 8, 2015
Andy and Paul aren't getting along at all. They are meant to build the basic temporary accommodation, but seem to disagree on everything. And both are threatening to leave the show, along with Joe and it's only been 24 hours?
Tomorrow we will see 14 women showing their survival skills on the Island With Bear Grylls. Wonder how they will fare?
Get the What to Watch Newsletter
The latest updates, reviews and unmissable series to watch and more!
PA Media is the national news agency for the UK and Ireland. With unrivalled access to the performers, productions and celebrities on both sides of the Atlantic, PA Media stories provide an irresistible glimpse into showbiz news. Bringing you all of entertainment's big moments. From daily soaps to film productions, we cover the shows that audiences want to know about with our previews, news and interviews.