The Replacement's Vicky McClure and Morven Christie: 'Our characters do messed-up stuff!'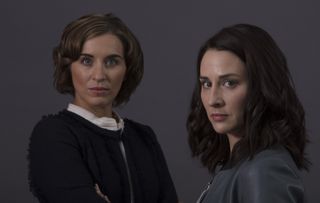 (Image credit: BBC/Left Bank)
A sinister office rivalry spells danger for Vicky McClure and Morven Christie in BBC1's three-part, psychological thriller The Replacement
There's no stopping hotshot architect Ellen Rooney (Morven Christie) in BBC1 thriller The Replacement. She's just landed a multi-million-pound contract for her firm in Glasgow and has finally achieved her dream of being made senior associate.
But not long after toasting her success, Ellen discovers she's pregnant, and while her husband Ian (Richard Rankin) is over the moon, the worried mum-to-be must help her bosses find maternity cover and hand over her dream project to her replacement.
In walks the charming and competent Paula Reece (Vicky McClure), who took a career break 10 years ago to have her daughter, but is ready to throw herself back into work.
Everyone loves her, but Ellen feels Paula is taking over her life, not just her job. Is Ellen paranoid or does Paula have a sinister agenda? We spoke to Vicky (Line of Duty, This is England) and Morven (Grantchester, The A Word) to find out why this office rivalry turns into a terrifying nightmare…
Tell us about Ellen and Paula and their personality clash… Morven: "Ellen has defined herself almost entirely by her career for a long time, and although she wants a family with her husband, the timing of her pregnancy has taken her by surprise. She feels as though her career is being whisked away from her and tries to not make a big deal out of the fact that she has to get someone in to cover her." Vicky: "Paula is confident, brash and sure of herself. In fact, she's the type of person who would apply to be on The Apprentice! She clashes with Ellen, but there's a reason why Paula behaves the way she does, which will slowly be revealed…"
Ellen thinks Paula is the perfect replacement to start with, why does she change her mind? Morven: "Ellen insists she'll be back after three months' maternity leave, but as she finds her identity changing by the pregnancy, paranoia starts to build in her and she can't understand why nobody else sees what she instinctively sees in Paula." Vicky: "It's that gut feeling you get when you know you don't like someone. They're never going to be buddies."
What does Ellen's husband, Ian, make of their feud? Morven: "Ian used to be Ellen's psychiatrist, so he always thinks he knows best about what she's feeling and thinks she's paranoid. Ellen is outwardly strong, forthright and says what she thinks, but she feels off-centre because of the dynamics of that relationship."
Will viewers side with Ellen and see Paula as a bit of 'Single White Female' type? Vicky: "It's not obvious whose side you should be on, and the more you learn about the characters, the more confused you'll become. It feels a bit like the film The Hand That Rocks The Cradle, but you will feel sorry for Paula, even though she does some messed-up stuff!" Morven: "But so does Ellen! There's no clear goodie or baddie, which I think is a more truthful depiction of human relationships."
You both clearly get on well, was it difficult to portray that passive-aggression onscreen? Morven: "No, it was such a laugh! Acting out those awkward moments, with everything bubbling under the surface, is a lot more fun than actual head-to-head conflict." Vicky: I loved pulling those sorts of faces [she narrows her eyes and purses her lips].
Can you relate to your characters at all? Morven: "I've definitely had "Imposter Syndrome", when I've found myself in situations where I've not felt good enough." Vicky: "Paula has all sorts of weird characteristics, plus the false nails were a challenge. I also had to have a weekly spray tan, which was sooo sticky… It's safe to say Paula is a million miles away from me!"
The Replacement begins on BBC1 on Tuesday 28 February, 9.00pm
Get the latest updates, reviews and unmissable series to watch and more!
Thank you for signing up to Whattowatch. You will receive a verification email shortly.
There was a problem. Please refresh the page and try again.