Julie Graham on why she loves her roles in Shetland and Benidorm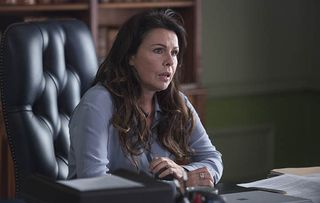 (Image credit: BBC/ITV Studios/Mark Mainz)
Julie Graham reveals behind-the-scenes fun in Shetland and what The Bletchley Circle fans can expect from the spinoff…
If the new series of Shetland - starring Julie Graham - has you on the edge of your seat, next week's penultimate episode is must-see stuff. Questions are answered, red herrings are thrown back into the sea and – after a superb game of cat and mouse – there are arrests.
In an interview with What's on TV outstanding Scottish actor, Julie Graham, who plays Shetland's Procurator Fiscal Rhona Kelly, reveals more about the unwelcome arrival of a Murder Investigation Team to the Islands. After learning about behind-the-scenes antics, we may not watch Rhona in the same light again!
Here Shetland and Benidorm star Julie Graham also tells us about filming ITV period drama spinoff, The Bletchley Circle: San Francisco…
Things get very exciting in Shetland next week. Why have MIT been brought in?
"This series centres on the old murder case of Lizzie Kilmuir. The man initially accused of Lizzie's murder in 1993, Thomas Malone, has been acquitted. The whole community is rocked, as it means there's potentially still a killer living in Shetland, who's got away murder. With Thomas's acquittal the entire case has to be reopened, so there's a lot of criticism of the Shetland police. The MIT are sent in as the local team aren't trusted, and their arrival rubs everyone up the wrong way!"
How does Rhona react to the arrival of MIT?
"Rhona's very conflicted. For a murder case to collapse, well that's a huge thing, and it all boils down to the police not doing their job properly. Her loyalties are torn. Retired DI Drew McColl (Sean McGinley) didn't follow procedure properly in the original case, and this has been causing even more tension between Rhona and DI Jimmy Perez ."
Does Rhona and Jimmy's (Douglas Henshall) relationship change when MIT turn up?
"Yes, when MIT comes in to take over the investigation Rhona is very protective of Jimmy. She's very much on his side and doesn't take any bull from the new people who've come in to criticise him. Having a common foe brings Jimmy and Rhona together!"
Was it fun having new actors on the set?
"Wonderful Eleanor Matsuura plays outsider DI Jessie Cole, and Jessie and Rhona clash a lot! Because Eleanor and I were always in a suit and heels – very unsuitable footwear for Shetland, everyone else is in wellies and boots! – every day on set we had a 'power suit off'. We'd both march onto set like a couple of cats, stare at each other and decide who was going to do hands in the pockets and who was doing crossed arms. For some reason this power suit competition always cracked us up!"
You're also currently playing straight-talking matriarch Sheron Dawson in ITV's Benidorm... it must be nice working in Spain...
"We do have fun! Josh Bolt [who plays Sheron's son Rob] is like my son. I often sit down and give him a good talking-to!"
We know it's top secret but… what can you reveal about The Bletchley Circle spin-off?
"We start filming in Vancouver in March for ten weeks. Vancouver is doubling for San Francisco. It's going to be four two-part stories. Essentially Millie (played by Rachel Sterling) and Jean go to San Francisco to help out an old Bletchley colleague. There was actually a code breaking station in San Francisco, which eventually expanded into the Cold War."
Are you excited?
"It's very exciting; I can't wait to do it again. When Millie and Jean go to help this former colleague they end up staying in San Francisco and getting involved in all kinds of adventures. The four female leads are myself, Rachel and two Canadian actresses, but I don't know who yet. And, at the moment, that's all I can say!"
Watch Julie and Eleanor in action in Shetland on Tuesday at 9pm on BBC1
Get the latest updates, reviews and unmissable series to watch and more!
Thank you for signing up to Whattowatch. You will receive a verification email shortly.
There was a problem. Please refresh the page and try again.