'I want to feel passionate about acting again,' says former Hollyoaks star Gemma Merna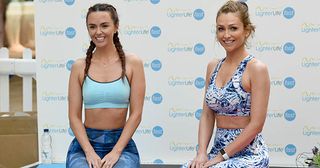 (Image credit: MCPIX/REX/Shutterstock)
Gemma Merna reveals why she quit playing Carmel Valentine in Hollyoaks, how she became a yoga teacher and what she hopes her future holds for her
Former Hollyoaks star Gemma Merna tells Soaplife about her new career as a yoga teacher, and discusses returning to the world of acting
What led to you becoming a yoga teacher? "I'd always done yoga and, when I left Hollyoaks, I started doing it twice a day. One of my teachers suggested I become a teacher myself, but I was a bit apprehensive about leaving my comfort zone. However, I decided to go for it. I went to Morocco with 26 strangers for two weeks, but we were firm friends by the end of it. There was no TV, no social media, we had to shower in just a trickle of water and we slept in rooms of three. It was daunting, but it was one of the most amazing experiences of my life. I came back a different person, no longer obsessing if an unflattering photo of me appeared in a magazine or online."
You're in great shape, Gemma "That's what yoga does for you. It's really changed my body. Yoga is an amazing workout, but it also helps de-stress you, engaging the mind as well as the body.
"I've just launched an app, Gemma Merna's 30 Minute Yoga. So anyone can experience yoga in the privacy of their own homes, if they want to."
Do you miss being in the public eye? "I don't miss the pressure of it. I've realised there's a lot more to life than worrying about how I look or what I'm wearing. We're all individuals and that's what should be celebrated."
Do you miss acting? "I do and I'm going to start auditioning for roles again. I want to enjoy it and feel passionate about it – like I did when I first started out."
Did you start feeling a bit jaded towards the end? I think when you're in a soap for a long time – and I played Carmel Valentine for eight years – acting stops being so much fun. You're just trying to get the scenes out, day after day. I've done some acting classes and I've rediscovered the fun element of it. I have a new agent and I'm looking forward to seeing what's out there. I'm open to everything."
Do you still watch Hollyoaks? "Not that often. It's on at such an awkward time. I always seem to be busy doing something else. But I'll make a point of watching it if one of my favourite writers has written an episode."
Are you still friends with any of your former co-stars? "Absolutely. I see Jenny Metcalfe [who plays Mercedes McQueen] all the time and I teach her yoga [pictured above]. And Jorgie Porter [who was Therese McQueen], of course. She's in America at the moment so we're face-timing. We'll be friends for ever."
Gemma Merna's 30 Minute Yoga is available from the iTunes App Store, priced £2.99
Get the latest updates, reviews and unmissable series to watch and more!
Thank you for signing up to Whattowatch. You will receive a verification email shortly.
There was a problem. Please refresh the page and try again.