All Star Mr & Mrs host Phillip Schofield: I've seen off-screen arguments which aren't mock fun!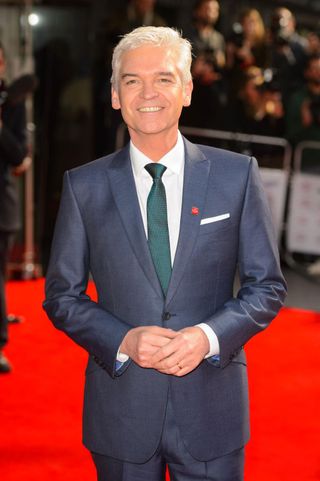 Phillip Schofield talks to TV Times magazine (opens in new tab) about the return of All Star Mr & Mrs (opens in new tab) (ITV, Wednesday, June 11), his plans for the summer and why he's the king of the BBQ!
You host so many shows, what is it you enjoy most about Mr & Mrs?
"That I can ask questions which are so impertinent that you wouldn't get away with them anywhere else! People are so honest because they're doing it for charity. It's amazing how many sleeping habits and cleaning habits people are happy to discuss! For example, in show one, we learn (ex-Westlife singer) Brian McFadden has never used a washing machine! I'm also genuinely nosy and like finding out about peoples' lives and what they're like off-screen."
Apart from Brian, who are your other favourite guests?
"David Hasselhoff [also in episode one] was absolutely hilarious. We reunited him with KITT the car from [Eighties sci-fi adventure series] Knight Rider."
Backstage after the show's finished, have you ever witnessed any arguments over mismatched answers?
"Yes and not just in mock fun. There have also been arguments on set with people saying: 'I can't believe you didn't know that, we've discussed this!' or 'You don't know anything about me at all'. So there have been minor rows and quite frosty car journeys home! We played the Mr & Mrs boardgame at home one Christmas and – it wasn't my wife Steph and I – members of our family ended up in a huge row. I jumped in saying we're not playing this again! People take it terribly seriously."
The World Cup also kicks off this week. Is Mr & Mrs the perfect antidote?
"Yes, we haven't done any football on the show."
Are you looking forward to the World Cup?
"Yes. I'm not a massive football fan, but I'm a massive patriot when it comes to big sporting events. So like everyone I'll be jumping and cheering for England when we play."
After another busy year with Dancing on Ice, The Cube, Mr & Mrs, to name a few, are you looking forward to some well-earned R&R when you take your annual summer break from This Morning?
"Yes. The year is very intense, but what's lovely is that we get seven weeks' holiday and I ring-fence this time off. We've got a house in Portugal so we tend to go there for some of it. It's not grand in any way, but it's lovely. It sits on a hill and it's nice and quiet."
Will you see your This Morning co-host Holly Willoughby during the break?
"Yes we do usually meet up because Holly and her family come out to Portugal. However, I don't know about this year because, of course, she's heavily pregnant."
What's your favourite thing about summer?
"Being outside in the evenings. I spent four years living in New Zealand, and summers there are more reliable than here so I got very used to those warm evenings outside where you don't realise what time it is and you're just chatting with mates."
BBQs are a summer staple. Are you a fan?
"Yes! Though, I say so myself, I'm an amazing barbeque-er! It has to be charcoal; I don't do gas. Timing is everything. Don't cook it too hot. Follow the three-second rule – if you can't hold your hand over the grill for three seconds without burning yourself then it's too hot to cook on. Obviously don't burn yourself! Any longer than four seconds and it's not warm enough."
As a wine connoisseur (Phillip has two cellars in his home!), any tips for the perfect BBQ tipple?
"Fizz is always lovely, so if you're supporting the British growers, buy some bubbly. Rosé is always good. Someone said to me recently that real men don't drink Rosé – that's rubbish."
Anything you don't like about summer?
"I'm allergic to wasps and bees. I take an EpiPen with me where ever I go because each time I've been stung, it's got worse and worse. Where we live in Oxfordshire, we have those big English hornets, which are like nuclear wasps. That's the only thing, there's not much not to like about summer."
After the summer, you're back on the This Morning sofa...
"Yes, it will be my 12th year in September. Richard and Judy did 13 years, and now there's that little bit of something in me that says: I'd quite like to beat that!"
With Dancing on Ice now finished, there's now a gap in your calendar this winter. Is there anything you'd still like to do?
"Yes, I'm always looking around for something new and something different. We've piloted a couple of ideas, actually. One was one of the funniest nights I've spent in telly and if we can make the idea work, that could be a go-er. So there are definitely other things I can get my teeth into, which is exciting."
And, finally, you've done so many TVTimes covers and interviews over the years. Do you keep them?
"My mum has got everything! If her house ever catches fire, it's going to burn for months as she's got so much paper in there! And I'm pretty sure, it's nothing else but TV Times articles!"
Get the latest updates, reviews and unmissable series to watch and more!
Thank you for signing up to Whattowatch. You will receive a verification email shortly.
There was a problem. Please refresh the page and try again.