'Allo 'Allo stars reunite for Gorden Kaye's funeral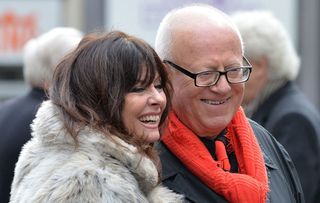 (Image credit: PA Wire/PA Images)
TV comedy actor Gorden Kaye was laid to rest in Huddersfield and many of his former 'Allo 'Allo co-stars were there to remember him
Stars of sitcom 'Allo 'Allo reunited to pay tribute to star Gorden Kaye as his funeral was held.
The actor, who played cafe owner Rene Francois Artois, died aged 75 on January 23.
His funeral was held in his home town at Huddersfield Parish Church on Friday.
Speaking ahead of the service, Vicki Michelle, who played Yvette Carte-Blanche, said: "It feels like the end of an era, but it's not because we're still going. But he was such a big part of our lives for such a long time."
Asked what her fondest memory of the actor was, she said: "We had so many memories, but I think when he was being a bit of a prankster."
Co-star Sue Hodge, who played waitress Mimi Labonq, said: "I haven't actually got to grips with the fact he's not here."
She added: "I'm never ever going to forget him. He'll be with me forever."
Kim Hartman, who played Private Helga Geerhart in the sitcom, said she had fond memories of his 'infectious laugh'.
She said: "When something really tickled him he just had this incredible giggle. It was so infectious."
Former Coronation Street actor Ken Morley, who played General Leopold von Flockenstuffen in the sitcom, said: "I am going to miss him.
"Between Gorden and myself it was like the War of the Roses because he was from Yorkshire and I was from Lancashire."
He added: "We had a laugh together, he was a very funny guy."
The service, led by Rev Canon Simon Moor, started with Yorkshire folk song On Ilkla Moor Baht 'At.
Rev Moor told the congregation about Mr Kaye's childhood and early career.
He said: "He accepted himself he was never really a scholar.
"Ironically his only real success at secondary school was in French."
In a eulogy, friend and producer Charles Garland, who worked on 'Allo 'Allo, said Mr Kaye had appeared on programmes including Coronation Street, Emmerdale and Are You Being Served before he was given the role which made him famous.
He said: "The part was written for him and, to be honest it was perfect casting."
Mr Garland said Gorden took up the role of Rene hundreds of times both on stage and off.
He said the 'shy boy from Huddersfield' was always hidden under the mantle of a 'skilled actor' and 'consummate professional'.
The producer said the last time he had seen Gorden he asked how he felt after he said he didn't think he had long to live.
Mr Garland said: "He said, and I quote this here word-for-word, 'Listen, if you are feeling downhearted I'm sorry to hear it, but you probably know somebody who is more downhearted than you are – go and cheer them up a bit, it's not that hard'."
In another eulogy, comedian Keith Simmons said the star would always be known as 'King Gorden' to the Water Rats – a showbiz fraternity and charity which the star had been made 'king' of in 1999.
He said: "He was a lovely man and we had great times."
The actor began his professional career working for the Bolton Repertory Theatre.
He appeared in all 84 episodes of 'Allo 'Allo, which ran from 1982 until 1992, and reprised the role in a 2007 special, as well as appearing in a stage version of the series.
In January 1990 he was seriously injured when a piece of wood smashed through the windscreen of his car during a storm. He was left with a scar on his forehead and no memory of the details of the accident, but he recovered and was able to resume his career.
Get the latest updates, reviews and unmissable series to watch and more!
Thank you for signing up to Whattowatch. You will receive a verification email shortly.
There was a problem. Please refresh the page and try again.