Amanda Holden has something to tell you: 'I love eavesdropping!'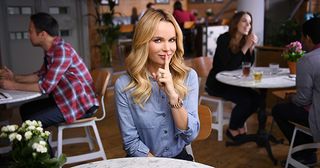 Psst. Amanda Holden confesses all about her new show on UKTV's W channel, I've Got Something To Tell You...
Picture the scene. Your friend has invited you for a lovely afternoon tea at a quaint little cafe. They seem strangely nervous, and then Britain's Got Talent judge Amanda Holden serves you your sandwiches and scones….
It's all because your mate has a big secret to tell you, and they've chosen to 'fess up while the TV cameras are rolling…
That's the premise of new W series, I've Got Something to Tell You (Monday, October 3) in which members of the public lure their loved ones into a stunt tea room to make confessions, instigate family reunions or even just to say thank you.
TV Times caught up with Amanda, 45, to hear more…
We know you love this show, Amanda, what makes it so special? "It's because I like eavesdropping on other people's conversations. The show is about people revealing major secrets they wish they had said before, or announcing pregnancies or coming out, and I get to be a witness to that.
"It's my dream show because often I'll be in a restaurant with my husband Chris and he'll be holding my hand, being lovely, but I'm not really focusing because I'm listening to the people at the table next to us!"
What was your favourite story on the show? "I really can't give too much away, but there was a huge story of a family who had given up a child back in the 1960s and we found them. It was a massive surprise and it was so emotional."
Why is it set in a tea room? "It creates a very relaxing, homely atmosphere, and it's a very English setting for a show that is really very British – a lot of people took a long time to get to the point, whereas in America they're much more open.
"This programme wouldn't work there actually, because they'd just come straight out with the secrets. I love the cafe by the way, I'd like to actually own one!"
We hear you've even done some waitressing? "Yes, I enjoyed it! My mum used to have a hotel in Bournemouth, and I was the waitress and the chambermaid, and I did the entertainment at Christmas. I used to really love meeting different people and serving food.
"I'm a real stickler for service as well when I go out, I hate bad service and people who don't get your order right because I used to try really hard. I always describe myself as a waitress that got lucky and that's still who I am."
Would you like to do a celebrity version? "That would be amazing, David Walliams and Simon Cowell could finally confess their love for each other! Or actually David would confess and Simon would give him a cake in his face. I'd probably rather we made the show with nice normal people…"
Do you have a secret you could confess in the tea room? "Well, my husband is really good at getting secrets out of me usually, but I do buy too many clothes, which I hide in the bottom of bins – I make sure he's out when I bring the shopping bags in! That's something I'd never confess to, but I'm sure loads of women do it."
It's great to see you presenting, but we hear you're also making a acting comeback too? "Yes, I'm doing a play called Stepping Out, which will be in the West End next year. It's about a group of women who go to tap dancing lessons at a church hall, and I'm doing it with my friends Angela Griffin, Nicola Stevenson, Tamzin, Outhwaite and Tracey Ann Oberman. I'm really excited to get my tap shoes on!"
Get the latest updates, reviews and unmissable series to watch and more!
Thank you for signing up to Whattowatch. You will receive a verification email shortly.
There was a problem. Please refresh the page and try again.