Amanda Redman: 'There's not a woman alive who wouldn't like to be 18 again'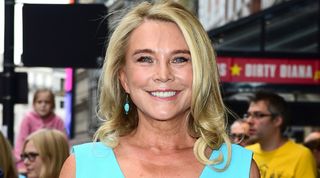 Amanda Redman has admitted she is considering having a facelift as she claimed every woman wishes they still looked 18.
The 58-year-old actress told Woman And Home magazine she has used Botox and fillers to help her appear more youthful in the past, and isn't averse to the idea of going under the knife.
Amanda said: "There's not a woman alive who wouldn't like to be 18 again; don't let anyone fool you into thinking otherwise.
Amanda has admitted to using Botox and fillers (Hannah McKay/PA)
"I've had Botox and fillers in the past, but then I stopped. I might do it again, or have a facelift – I never say never about anything. At the moment, though, I don't feel the need. I'm all right with myself. In a year's time, I might not be."
The New Tricks star – who appears opposite Ray Winstone in new ITV drama The Trials Of Jimmy Rose (ITV, Sunday, August 30) – admitted she did feel pressure on her appearance as an actress.
She said: "In this profession, there's a lot of pressure to look – and stay looking – a certain way. I've spent my career going up and down in weight, and I've always gone, 'I don't care what they think' because real women aren't sticks and I like playing real women."
Amanda Redman at Lynda Bellingham's memorial service in February (Steve Parsons/PA)
Amanda revealed she had gained a lot of weight from comfort eating after the recent death of her mother and two close friends, including Loose Women star Lynda Bellingham, and had felt compelled to take action.
She said: "I was bigger than I've ever been in my life. When I weighed myself, that was a terrible shock. So literally the next day I went on a regime similar to the 5:2 diet – so two days of 500 calories, three days doing Slimming World, and then on weekends I do what I want. I've dropped a lot of weight."
Get the latest updates, reviews and unmissable series to watch and more!
Thank you for signing up to Whattowatch. You will receive a verification email shortly.
There was a problem. Please refresh the page and try again.