Anna Friel - 'Marcella has done some terrible things this year'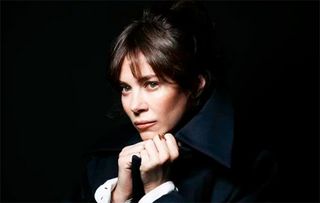 Anna Friel promises some big twists in the second series of Marcella
From Olivia Colman in Broadchurch, to Sarah Lancashire in Happy Valley, there's been no shortage of memorable female investigators on our screens in recent years, yet the darkest performance of all has surely been Anna Friel's turn as DS Marcella Backland.
The first series of this murky crime thriller saw the London detective on the trail of a serial killer whilst questioning her own sanity following a string of violent blackouts – or "fugues". But now Marcella is back with a new case that promises to be even more chilling.
In the opening episode, the body of a nine year-old boy who has been missing for four years is found encased in the wall between two flats. Yet this grisly murder is just the start of an investigation that soon widens to include a host of shady characters and tangled plotlines.
As TV Times sits down with Anna to discuss Marcella, she talks about the new series and how she smuggled her dog on set!
How's Marcella doing at the start of this second series?
Anna Friel: "It's a few months after the events of the first series and she seems okay considering her husband Jason (Nicholas Pinnock) has run off with another woman half her age and her kids aren't living with her! She hasn't had any fugues for five months, but she suffers one in this week's opening episode, which has serious consequences and it completely throws her as she thought she was over them. The fugues get progressively worse and they are terrifying her. We find out a bit more about their origins this series, which is interesting."
What can you tell us about the case she's investigating?
Anna Friel: "It's a really tough one for Marcella, because the victim was a friend of her son Edward and that makes it very raw for her. The flat the boy's body is discovered in belongs to an old rocker named Reg Reynolds (Nigel Planer). He's suffering from very poor health and protests his innocence, but Marcella isn't so sure…"
https://youtu.be/puI84xdmUKE
Is it difficult to recapture the character of Marcella, after having not played her for a year or so?
Anna Friel: "As soon as the fringe was cut back in and my hair was pulled back into the ponytail, I was like; 'oooh she's back'. It wasn't difficult, but you do have to put yourself into a dark space to play her. I made sure we did five-day weeks and not 11-day fortnights, because it was just too much last time. I know I'm so lucky to play this role and I'm definitely not complaining, but it's a tough one because you have to let your mind and body go to where Marcella is otherwise, it wouldn't come across on screen."
The series' creator, Hans Rosenfeldt, is famous for writing Scandi-Noir series The Bridge, how has it been working with him again?
Anna Friel: "I absolutely loved the final series of The Bridge and because that had finished, Hans was able to be on set a bit more this time. He always delivers these brilliant, wonderful twists and multi-layered stories, which are great to be a part of. I think he's gone above and beyond that in this series and I think there are a few cliffhangers that will have people thinking: "WHAT?!" Marcella has done some terrible things this year, so the show is darker than ever, but I think you've got to try and go bigger for the second series!"
This must be a tough role to play, how do you unwind after filming?
Anna Friel: "Well two hours of traffic helps! The drive from Windsor into London can be hell at times, but it gives me time to learn my lines. I love my AGA, I love to cook and I find shopping very therapeutic. My house is by the Long Walk at Windsor. I find walking very peaceful and my daughter and I have a dog share with another family now, a week on, a week off. The dog's name is Maggie May and she came on set a few times, she would often get out of her trailer and come and find me on set, I don't know how she did it. I kept trying to get her in the show but Hans said he didn't think Marcella would have a dog."
Marcella is one of our favourite TV detectives, but which female TV detectives have you enjoyed recently?
Anna Friel: "My favourite was always Helen Mirren in Prime Suspect, but I also think Gillian Anderson in The Fall is just remarkable. Olivia Colman was great in Broadchurch too. I have a great respect for so many actresses, you've just go to make sure you don't get obsessed with others because you've got to keep your own thing, but I love their work."
Marcella is famous for her furry parka, but she has a different coat on in this week's first episode…
Anna Friel: "This series is set during the height of summer, so it would have been ridiculous if she'd been wearing her big jacket. Maybe we'll be seeing her faithful old parka before the end of the series!"
The second series of Marcella begins on Monday 19th February at 9pm on ITV
Get the latest updates, reviews and unmissable series to watch and more!
Thank you for signing up to Whattowatch. You will receive a verification email shortly.
There was a problem. Please refresh the page and try again.