Ardal O'Hanlon and Jaime Winstone star in a sitcom with Royle pedigree, Sky 1's After Hours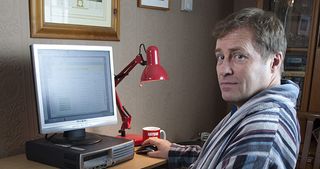 With its gentle comedy, a brilliant soundtrack, and a guest appearance from Caroline Aherne, there's a lot to like about Sky1's new comedy After Hours (Monday, November 2). Best of all, perhaps, the sitcom also marks the return of Ardal O'Hanlon (opens in new tab) to our screens after the Irish comedian spent the past few years focusing on his stand-up career.
Directed by The Royle Family creator and star Craig Cash, the six-part series revolves around teenage music fan Willow (James Tarpey) who finds himself heartbroken and directionless when he is dumped by his university-bound girlfriend.
Meanwhile, Willow's milkman dad Peter, played by Ardal, is facing problems of his own after being made redundant – and blames the local supermarket for taking away his customers.
What's Peter like?
Ardal: "He's is a good guy and has a lot of dignity. He doesn't let his disappointments overcome him in any way – and that could be said for all the characters in the show. They live in a town that's in decline, but they don't get angry and bitter. They all appreciate the good things in life like family and community."
Tell us a bit about After Hours...
Ardal: "For Willow, help comes in the form of After Hours, a local indie radio show presented from a canal boat by Ollie (Rob Kendrick) and Lauren (Jaime Winstone), who offer the lovelorn Willow a job on the show in a bid to cheer him up.
"The show's indie soundtrack is integral. The show is about outsiders and people who are defiant against the odds – and the kind of music reflects that. You've got some artists in there who are totally outside the mainstream."
Are you a fan of Indie music, Jaime?
"I had to swot up on indie music before starting the job. I'm not a massive fan of indie music, but I learned a lot about that scene and genre. I'm a bit more of a rock 'n' roll or dance music girl. But I went to see the Pixies in Manchester while we were filming, which felt very true to Lauren. It's nice when real things happen in your life that relate to the character you are playing."
You had to perform on stage doing a song written for you by Babyshambles. What was that like?
"It was quite scary because I am not a natural singer, but I loved being on stage. My sister, Lois, is a musician so I drew from her stage presence. In the end, the producers were saying they wanted to release the song as a single, but I'm not sure how I'd feel about that.
"I find it quite easy to pretend to be someone else when I am singing, but to stand on stage and sing from your heart is a really scary thing to do. It bares your soul."
WHO'S WHO IN AFTER HOURS...
Willow
James Tarpey
The teenager is dumped by girlfriend Jasmine, but finds a new interest in local radio show After Hours.
Jasmine
Georgina Campbell
Willow's girlfriend is off to university and has a new man in her life.
Ollie
Rob Kendrick
The likeable music geek hosts the After Hours radio show featuring all of Willow's favourite music.
Lauren
Jaime Winstone
The co-host of After Hours takes pity on Willow after his break-up and offers him a job on the show.
Peter
Ardal O'Hanlon
Willow's dad has lost his job as a milkman and is boycotting the local supermarket as a result.
Geoff
John Thomson
Peter's friend moves in after splitting from his wife (Caroline Aherne) and the pair try to dream up a business together.
Get the latest updates, reviews and unmissable series to watch and more!
Thank you for signing up to Whattowatch. You will receive a verification email shortly.
There was a problem. Please refresh the page and try again.