BBC3's Ugly Me: 'My face is almost deformed, I hate it'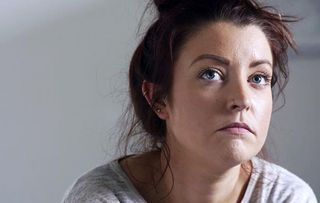 (Image credit: BBC)
Why is beautiful Liane so convinced she looks horrible?
Every time she plans to leave the house, 29-year-old Liane – who is in the new BBC3 documentary, Ugly Me - spends hours agonising over her appearance in front of the mirror. Sometimes she hates the way she looks so much that she refuses to go out at all.
Liane suffers from body dysmorphic disorder (BDD), a condition which causes you to believe you're horrifically ugly.
"My face is almost deformed, I hate it," says Liane, as she's filmed sobbing in front of the mirror in Ugly Me: My Life with Body Dysmorphia, which is available from 10am tomorrow to watch on BBC3.
"Sometimes I just want to scratch it off. I'm just so ugly and disgusting."
Liane's condition is so bad that she's struggled to hold down a job. It also seriously affects her relationship with her boyfriend, Mitch.
"I think Liane looks beautiful but she hates me for saying that, she gets angry," says Mitch.
"One time when she was trying to get her hair ready and it wasn't going right she got a lighter and set it on fire."
Cameras follow as Liane undergoes therapy and explores how her condition started as a shy tomboy in a group of confident girls. She also meets Alanah, 21, who is able to manage her BDD after four years of therapy.
But can Liane conquer her demons? "What if I don't have BDD?" she wonders. "What if it's just that I can't deal with being ugly?"
Ugly and Me is available from 10am tomorrow to watch on BBC3.
Get the latest updates, reviews and unmissable series to watch and more!
Thank you for signing up to Whattowatch. You will receive a verification email shortly.
There was a problem. Please refresh the page and try again.