Benedict Cumberbatch stuns theatregoers with passionate attack over refugee crisis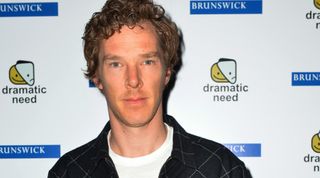 Sherlock star Benedict Cumberbatch turned the air blue when he launched into a passionate attack at politicians' response to the refugee crisis.
The 39-year-old actor shocked theatregoers at the Barbican production of Hamlet in London during a speech after his performance on Tuesday, when he was reported to have said 'F*** the politicians'.
He was applauded for his views, before he apologised for his language. And Twitter was soon abuzz with his speech.
Was moved by Cumberbatch's appeal for refugees – wondered how Shirley Williams in audience viewed his **** the politicians #HamletBarbican
— Rachel Martin (@RachelVMartin) October 27, 2015
It is so wonderful to see a person with fame and influence to use their stage to directly speak about the refugee crisis as Cumberbatch has.
— Charlotte (@CharlotteyLF) October 27, 2015
Shakespeare should be used for political action. Wish Benedict Cumberbatch had sworn at politicians during Stage to Screen! #HamletBarbican
— Mia Hewitt (@mariannehewitt) October 30, 2015
Good to see Benedict Cumberbatch using his fame and the stage as a platform to promote something worthwhile. Hats off to him. Clever man.
— Alice Lloyd (@aliceelloyd) October 30, 2015
Cumberbatch, who has been an active supporter of appeals to help Syrian refugees and took part in a short film for a Save the Children campaign, has been giving nightly speeches after his curtain call, asking for donations for the charity.
Audience contributions have raised more than £150,000 for Save the Children to date.
http://www.youtube.com/watch?v=u-fcZOZ4Uik&feature=oembed
During the speeches, Cumberbatch has been reading a poem called Home by Somali poet Warsan Shire, the same one he read in the introduction to Help Is Coming, Save the Children's charity single, released in the summer.
It includes the line: "No one puts children in a boat unless the water is safer than the land."
http://www.youtube.com/watch?v=5gWLQhCSv2I&feature=oembed
The actor, who next stars in crime movie Black Mass, alongside Johnny Depp, has said he would like to meet with the Home Secretary to discuss the crisis.
He previously told Sky News: "I don't think the Government is doing enough, I'm glad to say that. I would like to sit down with Theresa May and really get an idea of how her economic and political model works.
"There is a huge crisis and not enough is being done. Yes, we need long-term solutions; yes, we need to get people out of the camps so they don't make a perilous journey; yes, it's a good idea to actually have a specific solution, I suppose, once they arrive here. But to say 20,000 over five years when 5,000 arrive in one day? We've all got to wake up to this."
Get the latest updates, reviews and unmissable series to watch and more!
Thank you for signing up to Whattowatch. You will receive a verification email shortly.
There was a problem. Please refresh the page and try again.