Benidorm's Jake Canuso on his Sports Relief rowing challenge: 'Why I could be the first to fall in!'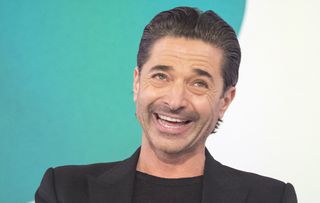 (Image credit: Ken McKay/ITV/REX/Shutterstock)
Benidorm star Jake Canuso reveals why he could be the first rower to make a splash...
Swiss-born actor Jake Canuso, best known for playing barman, Mateo Castellanos, in ITV hit drama, Benidorm, will be taking part in BBC1's Celebrity Rowing for Sports Relief on March 23rd, where ITV stars take on their rivals at the BBC.
Here the actor talks about the big race which will take place at Salford Quays, being star-struck by Olympians Sir Steve Redgrave, James Cracknell and Helen Glover who helped with training, and why he's more used to being in a pedalo….
TV Times talks to Jake Canuso about celebrity rowing and Benidorm
TV Times: How's the training going?
Jake Canuso: "I was really nervous at first. I thought, 'This is mad. We're going to learn to row in a dry room in five days and then go straight out on the water and straight in the boat'. When you stand there with a boat over your shoulders and you know you've got to put it into water you think, 'God this is real.'"
TVT: Was it scary getting on the water for the first time?
JC: "It was quite nerve-wracking. You've got the tipping point, that's where it could go wrong. Also when you're rowing you could knock yourself out if you make a mistake. I was determined not to be the one who did that. But once I was on the water, all the nerves disappeared and I got a real buzz from it. It's always brilliant to learn a new skill and to be taught by an Olympian is so exciting."
TVT: Were James Cracknell and Helen Glover tough taskmasters?
JC: "No! I had a dance background when I was younger and that was tough. In those days the sticks used to come out and the chairs used to fly across the room. These guys are really encouraging and positive. They make you believe you can do it. Sir Steve Redgrave said very nice things about us too."
TVT: Are you feeling the pressure?
JC: "Yes. You don't want to let the team down and you want to do your best for Sport Relief. I was really worried about falling in but apparently that's never happened. However when I did the diving with Tom Daley I hit my nose on the bottom of the pool and he said to me that's never happened before. So there's always a first and I could be that first."
TVT: Have you ever rowed before?
JC: "Nope. I've never been on a rowing boat or had an oar in my hand. I've been on a pedalo swan if that counts? I had no idea what to expect."
TVT: How did you get on?
JC: "There was never a moment when I felt unfit, or out of breath or that I couldn't do it. The coaches always said it isn't about how fit you are, it's about teamwork and being a group of people that work together, concentration and focus."
TVT: Will the Benidorm gang be there to cheer you on?
JC: "I definitely want to get some of them down. Hopefully they will be there shouting."
TVT: Is there much rivalry between ITV and the BBC teams?
JC: "There's this mock rivalry but really we're all here for the same reason. And they're all lovely."
TVT: What made you want to get involved?
JC: "At the end of the day we're doing it for a really great cause. It's so exciting. I love Comic Relief and I love Sport Relief and the way the whole nation comes together. It's brilliant to raise money and awareness for all these really important things... Whether you give a donation, give your time or raise awareness on a hashtag it all makes a difference."
Celebrity Rowing is part of Sport Relief Night on BBC1 on Friday March 23.
To donate go to www.sportrelief.com
Main pic: Ken McKay/ITV/REX/Shutterstock
Get the latest updates, reviews and unmissable series to watch and more!
Thank you for signing up to Whattowatch. You will receive a verification email shortly.
There was a problem. Please refresh the page and try again.