Billions star Damian Lewis: Most hedge fund fat cats are sociopaths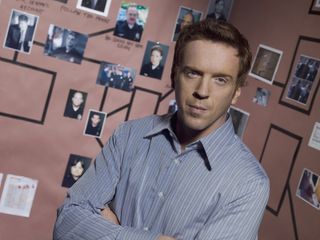 (Image credit: © NBC Universal, Inc.)
Billions star Damian Lewis says his unscrupulous character Bobby Axelrod is a hero to hedge fund billionaires
With Damian Lewis about to reprise his role as shady financier Bobby 'Axe' Axelrod in the second season of Sky Atlantic drama Billions on Tuesday, February 21, the British star brushed up his research by meeting several New York hedge fund billionaires recently.
He told What's On TV he was surprised by what he found.
"I met billionaires who were overweight, and didn't really take care of themselves, and were happy to go to work in sweatpants and sneakers," he said. "And I met other guys in $4000 Tom Ford suits with $500 haircuts, so they run the spectrum. But my character, Bobby, is a far more swaggering, athletic, prowling alley cat than any of the people that I met."
There is one thing, however, that all the wolves of Wall Street have in common, said Lewis.
"Many of the people who have made a lot of money are sociopaths to some degree. It's a Machiavellian world. Every hedge fund billionaire I meet thinks that Bobby Axelrod is just like him, which surprises me. I don't think anybody would want to own up to some of the things that Bobby does."
The new season of Billions finds Bobby stepping up his personal battle against his potential nemesis, US Attorney Chuck Rhoades (Paul Giamatti), who is determined to bring the money man down.
"What makes someone like Bobby tick, and someone like Chuck tick, too, is the game and the game only," said Damian. "It becomes more important than the money or the status – it's just the desire to win. And the greater your desire to win, the further you will compromise yourself."
As well as writing on sport and television for What to Watch, Richard McClure has contributed art and travel features for a wide variety of publications, including the Financial Times, The Guardian, and The Observer.
Get the latest updates, reviews and unmissable series to watch and more!
Thank you for signing up to Whattowatch. You will receive a verification email shortly.
There was a problem. Please refresh the page and try again.