10 Years Ago in the Soaps: Week Beginning February 3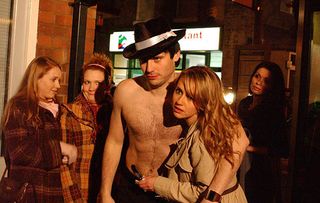 10 Years Ago in the Soaps… Remind yourself of all the soap drama that was happening in Coronation Street, EastEnders, Emmerdale and Hollyoaks 10 years ago this week!
Maria Sutherland (Samia Longchambon) got suspicious in Coronation Street, Stacey Branning's  dreams went up in flames in EastEnders, Nicola De Souza (Nicola Wheeler) was a love cheat in Emmerdale and Mercedes McQueen (Jennifer Metcalfe) got physical with Rhys Ashworth (Andrew Moss) in Hollyoaks - 10 Years Ago in the Soaps…
Coronation Street
Bride-to-be Maria Sutherland wasn't impressed when she found Carla Connor (Alison King) untying a half-naked Liam Connor (Rob James-Collier) from a lampost after his raucous stag do. And she was even less impressed when, a couple of nights later, she caught Carla giving Liam an extremely sensuous kiss on the cheek… Carla had called round to Liam on the eve of his and Maria's wedding to convince him to accept there were feelings between them. Liam denied it - but who was he kidding?
Becky Granger (Katherine Kelly) was smitten with Jason Grimshaw (Ryan Thomas) but he reckoned he'd made a big mistake sleeping with her and was off to Italy to sort things out with wife Sarah. He was soon back home feeling very depressed after Sarah told him it was over, but decided he needed to face Becky in the cafe. When he turned up, Becky calmly put down the dishes she was carrying, headed over to Jason - and punched him the face. Served him right!
Nothing was going right for poor Stacey Branning (Lacey Turner). She couldn't shift the stuff on her market stall and if she didn't come up with the rent for it quick smart she'd lose it. Selling her wares at knock-down prices did the trick and she let a smart-suited chap - Roger the dodger - talk her into buying a new range of stock from him. It looked like an offer too good to refuse - but she should have. The dresses were knocked-off and when Stacey realised she went to the allotments, drowned her sorrows with vodka, and set fire to the clothes…
Minty Peterson (Cliff Parisi) was devastated when fiancée Hazel - his mate Garry Hobbs' mum - took a taxi out of his life because she was too old to give him the children he longed for. Minty tried to stop Hazel from leaving but was too late, so he took his grief out on Garry (Ricky Groves). He reckoned Garry had never wanted him and Hazel to be together and let rip with a punch that left poor Garry with a vivid black eye!
Nicola De Souza knew just how to get around David Metcalfe (Matthew Wolfenden) and had no trouble persuading him to carry on their secret relationship behind her elderly husband Donald's back. Only it wasn't so secret… Donald's son Miles was furious when he spotted them frolicking and wasted no time in reporting back to his dad. Donald took the news calmly. He was nobody's fool and well aware of what his young wife was getting up to…
It was Val Pollard and Viv Hope's idea to take to the skies in a thrilling loop the loop plane stunt to raise money for charity. But when it came to the big moment, Viv fainted and Val's terror got the better of her… so it was Bob Hope (Tony Audenshaw) and Diane Sugden (Elizabeth Estensen) who did the stunt - and proclaimed it the best experience ever!
Neither was willing to appear vulnerable by admitting it, but Mercedes McQueen  and Rhys Ashworth were really starting to care for each other. What started as a purely physical attraction was slowly developing into something deeper, but was Rhys really over Beth Clement, the half-sister he'd had an incestuous relationship with?
Beth Clement (Sinead Moynihan) and Gilly Roach (Anthony Quinlan) were back from their trip to Thailand and Gilly confided in Rhys that he planned to propose. Rhys warned Beth and the two clung to each other, knowing there was no future for them together. So when Gilly got down on one knee and asked Beth to marry him, she said "yes."
Get the latest updates, reviews and unmissable series to watch and more!
Thank you for signing up to Whattowatch. You will receive a verification email shortly.
There was a problem. Please refresh the page and try again.