10 Years Ago in the Soaps including EastEnders - Week beginning 26 May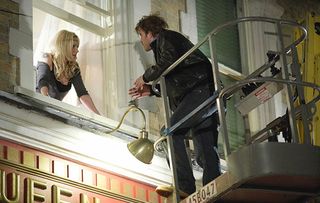 (Image credit: BBC)
10 Years Ago in the Soaps - Remind yourself of all the soap drama happening in EastEnders, Coronation Street, Emmerdale and Hollyoaks 10 years ago this week!
Sean Slater turned on the charm in EastEnders, Roy Cropper was under attack in Coronation Street, Carl King was betrayed in Emmerdale and Darren Osborne gambled away a fortune in Hollyoaks - 10 Years Ago in the Soaps
EastEnders - 10 Years Ago in the Soaps
Sean Slater (Rob Kazinsky) wasn't famous for romantic gestures but he reached an unexpected high when he got his hands on a cherry picker to give him a lift to Roxy Mitchell's window at The Queen Vic. He begged Roxy (Rita Simons) to believe he would be a good dad to the baby she was expecting, unaware her sister Ronnie Mitchell (Samantha Womack) planned to whisk Roxy off for a new life in sunny Ibiza. He was furious when he caught them leaving without telling him…
Ronnie Mitchell was hoping that Jack Branning would leave for Ibiza with her and Roxy, but his heart was in Walford and - at that point - with his sister-in-law, Tanya Branning! The sexual tension sizzled between them but Jack told Tanya he feared she still loved Max. Tanya insisted she didn't - and enjoyed a night of passion with Jack!
Coronation Street - 10 Years Ago in the Soaps
A teenage gang struck fear into the heart of the Street when a group of hoodies led by Chesney Brown's schoolmate Kenzie (Jack Cooper) targeted Roy Cropper's cafe. Roy (David Nielson) wrestled with the thugs as they raided his till, then gave chase - aided by Darryl Morton (Johnny Dixon) and his dad Jerry (Michael Starke) – when they ran off. But the effort was too much for Jerry who suffered a heart attack…
Chesney Brown (Sam Aston) was suffering a severe case of young love, having fallen for Kayleigh Morton (Jessica Barden). He tried to play it cool, turning up on her doorstep in his shades, but picked the very worst time to ask her out. Her dad Jerry was in hospital recovering from his heart attack and the last thing she wanted to talk about was dating Chesney. Poor Ches!
Emmerdale - 10 Years Ago in the Soaps
Carl King (Tom Lister) had left the family firm and joined forces with rival Donald De Souza. At the same time he was falling for Lexi Nicholls (Sally Oliver), blissfully unaware that his brother and now business rival Matthew King (Matt Healy) was blackmailing her into helping him scupper Carl's latest deal. Lexi regretted her part in sabotaging Carl as she was falling for him, too. But when he discovered her betrayal he exploded with fury and refused to listen to her excuses. Affair over!
As wedding brochures arrived in Eric Pollard's post, so did a tax demand for £30,000. When David Metcalfe (Matthew Wolfenden) found Pollard (Chris Chittell) at his desk with a whisky before noon, he discovered the full extent of his dad's financial problems. David insisted he would have to cancel the wedding, but Pollard said he'd rather face 10 years behind bars than the wrath of his fiancée Val Lambert. Sensible man…
Hollyoaks - 10 Years Ago in the Soaps
Warren Fox (Jamie Lomas) was a murderer but when it came to his deal with Darren Osborne he refused to go back on his word. He had promised Darren £100,000 for his part in persuading Jake Dean to take the rap for Sean Kennedy's murder and duly handed the cash over. The Osbornes were in desperate need of the money so what did Darren do? Decided the only way to solve their troubles was one last trip to the casino… where he gambled away the lot!
Rhys Ashworth (Andrew Moss) and Gilly Roach (Anthony Quinlan) were one-time best mates. But now they were at each other's throats over Rhys's affair with his half sister Beth Clements, Gilly's fiancée. Rhys disappeared after Beth was killed in a car crash, but now he was back in the village and Hannah Ashworth was trying to build bridges between the two men. It wasn't going well!
10 Years in the Soaps will be back next week!
Get the latest updates, reviews and unmissable series to watch and more!
Thank you for signing up to Whattowatch. You will receive a verification email shortly.
There was a problem. Please refresh the page and try again.