10 Years Ago in the Soaps including EastEnders - Week Beginning January 27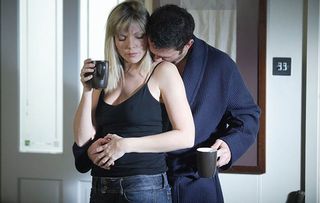 (Image credit: BBC)
10 Years Ago in the Soaps… Remind yourself of all the soap drama that was happening in EastEnders, Coronation Street, Emmerdale and Hollyoaks 10 years ago this week!
Jack Branning (Scott Maslen) and Ronnie Mitchell (Samantha Womack) were on and then off in EastEnders, Becky Granger (Katherine Kelly) and Jason Grimshaw (Ryan Thomas) slept together in Coronation Street, Debbie Dingle (Charley Webb) had a change of heart in Emmerdale, and Michaela McQueen's life hung in the balance in Hollyoaks - 10 Years Ago in the Soaps
EastEnders
Jack Branning and Ronnie Mitchell couldn't keep their hands off each other. And after another night of passion they talked about moving in together, and Jack said he'd be waiting at Fargo's that evening for Ronnie to give him her answer. But Ronnie's sister Roxy wasn't having any of it. She told Ronnie she'd seen Jack and his ex-wife Selina getting upclose and personal on the desk in his office. Jack waited at Fargo's, champagne on ice, but when Ronnie turned up she gave him a punch that sent him flying… then plunged her sore hand into the ice bucket to ease the pain. And Jack was left reeling…
Clare Bates (Gemma Bissix) arrived in Albert Square with a bang. Billy Mitchell was setting up his stall in the market when a car screeched round the corner and a young woman was thrown from the moving vehicle. As she picked herself up and dusted herself down (in her very skimpy outfit), Billy tried to talk to her but she was giving nothing away. We know now, though, that she was Clare Bates, daughter of Debbie Tyler and stepdaughter of Nigel Bates, one-time Walford residents. And Clare was trouble…
Coronation Street
Jason Grimshaw was getting the cold shoulder from wife Sarah but Becky Granger was happy to give a shoulder to cry on. Jason invited Becky back to his place where they shared a bottle of wine on the sofa. One thing led to another and they ended up in bed… Oops! Sarah definitely wasn't going to be happy if she got to hear about that!
There wasn't a dry eye in the house this week 10 years ago as Street legend Vera Duckworth (Liz Dawn) was laid to rest. It was a tough day for her hen-pecked husband Jack (Bill Tarmey) who fought his emotions to make a moving speech about Vera at the funeral and it was clear to the packed congregation that he was speaking from the heart. Back home, Jack felt that Vera would have been pleased with the way the day had gone. Then he raised a glass to her - and broke down in tears.
Emmerdale
Debbie Dingle (Charley Webb) reckoned she didn't want her daughter Sarah Sugden (Sophia Amber Moore) in her life and was ready to let her dad Andy Sugden's fiancée Jo Stiles adopt her. But when Jo got Debbie to babysit the little girl while she visited Andy in prison, Debbie was surprised at what a great time they had together. And doubts about the adoption started to set in…
Katie Sugden (Sammy Winward) was meant to be carrying a baby for Perdy (Georgia Slowe) and Gray Sinclair (Christopher Villiers) but when the trio went for her first scan, Perdy was feeling decidedly left out. She and Gray had split up and Katie was fast developing feelings for Gray… and there was no way she was handing over the baby to Perdy and her lover, Matthew King.
Hollyoaks
Niall Rafferty (Barry Sloane) was hellbent on revenge on Myra McQueen (Nicole Barber-Lane) for giving him up as a baby and this week 10 years ago he used Michaela McQueen (Holly-Jay Bowes) as his victim. It was Niall's party and after plying Michaela with cocktails, he waited until she had passed out then injected her with heroin. The family panicked when they found her unconscious and she was rushed to hospital where Niall took great pleasure in watching them blame each other for Michaela's 'drugs problem.'
Mike Barnes (Tony Hirst) worried that the age gap between him and his young lover Zoe Carpenter (Zoe Lister) was too big to overcome and ended things with her. But Zoe wasn't being fobbed off that easily. When the couple agreed they weren't ready for anything serious, they were soon back on and tearing each other's clothes off, blissfully unaware that Ste Hay (Kieron Richardson) was watching them and filming them in the act!
Get the latest updates, reviews and unmissable series to watch and more!
Thank you for signing up to Whattowatch. You will receive a verification email shortly.
There was a problem. Please refresh the page and try again.