10 Years Ago in the Soaps including Coronation Street: Week Beginning May 5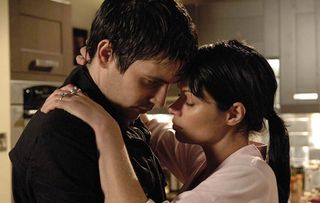 10 Years Ago in the Soaps: Remind yourself of all the soap drama happening in Coronation Street, EastEnders, Emmerdale and Hollyoaks 10 Years Ago in the Soaps this week!
10 Years Ago in the Soaps - Carla Connor and Liam Connor got closer in Coronation Street, Pat Evans was mowed down in EastEnders, Ashley Thomas fought for his son in Emmerdale and Carmel McQueen proposed in Hollyoaks…
10 Years Ago in the Soaps - Coronation Street
When Liam (Rob James-Collier) finally found out that Maria (Samia Longchambon) had lost their baby he was deeply hurt she had kept the news from him for so long - and turned to Carla (Alison King) for comfort. When the day came to bury their tiny son, Carla was by Liam's side as Maria said she couldn't face the service. She had a last-minute change of heart and begged Liam to forgive her. But was it too little too late?
Tina McIntyre (Michelle Keegan) paid David Platt (Jack P Shepherd) a surprise visit in prison and put a smile back on his face. She apologised for telling him she wouldn't be coming to see him but David understood and said now he had a reason to do his time and get out as quickly as possible. They would have sealed the deal with a kiss, but the prison officer wasn't having any of that funny business…
10 Years Ago in the Soaps - EastEnders
Roxy and Peggy Mitchell (Rita Simons and Barbara Windsor) were in a rush to get Ben home from his dancing exam before his dad Phil found out where they had been. And Pat Evans (Pam St Clement) was chasing grandson Steven Beale across the Square and not looking where she was going when the Mitchell's jeep zoomed round the corner. Pat was sent flying, Peggy rushed to her rescue… and driver Roxy sat stunned. Pat suffered a broken leg, but it could have been much worse!
Pat Evans was chasing Steven Beale (Aaron Sidwell) because she had discovered a clue about the disappearance of Lucy Beale (Melissa Suffield). Steven had been keeping Lucy captive at a caravan park, telling her that her family were much happier without her. Now he was desperately trying to spirit her out of the country, but Ian Beale (Adam Woodyatt) was hot on his trail and tracked them down to London's Eurostar station. Could Ian convince Lucy that Steven had been spinning her a web of lies?
10 Years Ago in the Soaps - Emmerdale
Melanie and Greg Doland (Caroline Strong and Shaun Prendergast) were devastated at the news their baby boy Arthur could be Laurel and Ashley Thomas's child and not theirs. And they weren't hanging about for the DNA test results to come through and confirm their worst fears. Instead they fled to the airport with baby Arthur, but lost valuable time when they left Arthur's passport in the taxi. Ashley (John Middleton) caught up with them, and refused to let them leave the country…
Shadrach Dingle (Andy Devine) was pleased with the way things were going between him and his new-found daughter Gennie Walker (Sian Reese-Williams). But the arrival of her adopted mum Brenda (Lesley Dunlop) put the cat among the pigeons. Brenda was horrified when Gennie introduced Shadrach as her birth dad and Shadrach was scared he would lose Gennie forever when Brenda told Gennie 'It's him or me!'
10 Years Ago in the Soaps - Hollyoaks
Carmel McQueen (Gemma Merna) and Calvin Valentine (Ricky Whittle) were missing each other like crazy and both regretting their break up. But would they admit it to each other? It was Carmel who broke the ice, saying they had both been foolish and asking Calvin if he would marry her. Calvin was stunned… then said 'yes!' He had to… it's what the fans all wanted.
Nancy Dean (Jessica Fox) was thrilled when she heard her little nephew Charlie was well enough to be released from hospital and rushed around preparing for his homecoming. So it was a huge shock when Frankie Osborne (Helen Pearson) arrived at the hospital with a social worker and broke the news that Charlie was being entrusted to her care, not Nancy's. Nancy was furious and accused Frankie of going behind her back, but Frankie promised she could see the little boy whenever she wanted.
Get the What to Watch Newsletter
The latest updates, reviews and unmissable series to watch and more!