Which TV stars would make the best Prime Minister?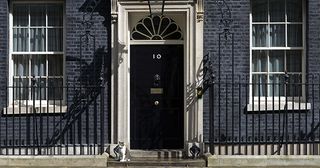 (Image credit: Steve Back/REX/Shutterstock)
Here at TV Times, we take a light-hearted look at who, from the world of TV, we think would make a good Prime Minister
For a while there we were left wondering who was going to be the new Prime Minister, what with numerous candidates throwing their hat into the ring, only then to remove it (or have it removed for them!)
We thought we would take it upon ourselves to look, with tongue in cheek, to the world of TV and pick a select few that, in our opinion, would make a perfect PM...
Dragons Den
Let's face it, any one of the Dragons could be PM. They are all very successful and the other four could help make up the Cabinet... unless they declared "I'm out!"
Lord Alan Sugar
Lord Sugar would make a great candidate – he's known for his business savvy, from his humble start selling fruit and veg as a youngster, to the huge success he is today. He's not afraid to say it like it is and would think nothing of telling his fellow politicians: "You're fired!"
Keith Lemon
Keith may not be an obvious choice for PM, but he would be a huge supporter of the NHS – he loves bandages!
Mr Motivator
What better person to get the country motivated, after a rough few months with Brexit and feuding parties, than the brightly coloured, fitness fanatic Mr Motivator. Who doesn't love a man in a fluorescent unitard?!
Patsy Stone
Simply because she's Absolutely Fabulous, sweetie, darling.
Alan Carr
Alan might not choose the right cabinet ministers for the job, but he definitely knows how to organise his drinks cabinet, and is one very Chatty Man.
Gordon Ramsay
Gordon is a no-nonsense kind of guy, who will Whip everything into shape and won't take any s*!t from anyone. If you can't stand the heat, get out of the kitchen!!
Kim Woodburn
Kim is used to getting her hands dirty, is never one to shy away from a tough challenge, so cleaning up the country should be a breeze.
Hugh Grant
Hugh's more of a movie star than a TV star, but he's done the job already, and it could be a match made in heaven, in fact it's Love Actually.
Peter Griffin
So he's the outside choice; he's not British and not even human! But let's face it, he's the Family Guy. Unfortunately, he's no role model, lacks family values, but it would be fun for No. 10 Downing Street cat Larry to have some company with his new BFF, Brian.
Get the What to Watch Newsletter
The latest updates, reviews and unmissable series to watch and more!