Blu-ray review | Creepshow (1982) | George A Romero and Stephen King's horror anthology is a perfect Halloween treat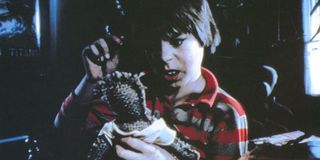 This 1982 horror anthology, based on the classic EC Comics, was a big hit for director George A Romero, who's best known for his visceral Living Dead franchise. Using animated comic strip opening and closing credits, Romero sets out to make audiences scream, cringe and shiver with five ghoulish tales penned by Stephen King.
In Father's Day, a patriarch (Martin's John Amplas) returns from the grave to claim his birthday cake from his horrid kin (Viveca Lindfors and Carrie Nye); The Lonesome Death of Jordy Verrill concerns a backwoods farmer (Stephen King) turning into a fungus after breaking open a meteorite; Something to Tide You Over finds a jealous husband (Leslie Neilsen) burying his wife (Dawn of the Dead's Gaylen Ross) and her lover (Ted Danson) up to their necks on a beach; College professor (Hal Holbrook) gets rid of his embarrassing wife (Adrienne Barbeau) when his 'friend' (Fritz Weaver) discovers the living contents of The Crate; and They're Creeping Up On You sees a ruthless tycoon (EG Marshall), who treats people like vermin, get overrun by cockroaches.
THE RELEASE The Second Sight (Region B) Blu-ray release includes an audio commentary with George A Romero and special effects creator Tom Savini; the feature-length Just Desserts: The Making of Creepshow; a 26-minute featurette with Tom Savini; deleted scenes; trailer, TV spot and stills gallery.
WIN THE BLU-RAY! Check out our fantastic giveaway of Creepshow on Blu-ra (CLICK HERE TO ENTER NOW).
http://youtube.com/v/WiJe08ZJiGM
Get the latest updates, reviews and unmissable series to watch and more!
Thank you for signing up to Whattowatch. You will receive a verification email shortly.
There was a problem. Please refresh the page and try again.