Blu-ray review | Die Hard Quadrilogy - Two decades, four films & one cocky hero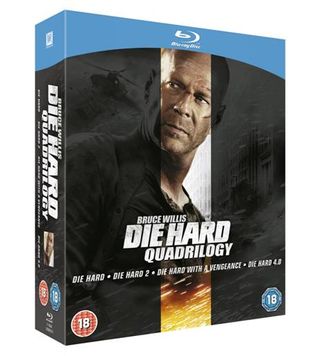 With a fifth Die Hard movie, A Good Day to Die Hard (opens in new tab), currently in pre-production, the first four films in the series featuring Bruce Willis's maverick New York cop John McClane now make their debut on Blu-ray.
Die Hard (1988), the first and best of the bunch, sees Willis's wisecracking hero still sporting hair as he single-handedly takes on a group of terrorists, led by an icily lethal Alan Rickman, who have seized control of a Los Angeles office block. Such is the film's breathless sense of pace and operatic action sequences you'll barely even notice the holes in the plot.
Die Hard 2 (opens in new tab) (1990) again finds McClane as 'the wrong guy in the wrong place at the wrong time', here trying to save his airborne wife (Bonnie Bedelia) and her fellow travellers when terrorists seize control of a snowbound airport. Willis displays his usual laconic charm but Finnish director Renny Harlin tackles the violent scenes with such zeal that the film leaves a nasty taste in the mouth.
Die Hard with a Vengeance (opens in new tab) (1995) Willis's McClane reluctantly teams up with Samuel L Jackson's Harlem storekeeper to play a deadly game of bluff when Jeremy Irons' terrorist mastermind holds New York to ransom. Die Hard director John McTiernan is back at the helm but recapturing the magic that made the original film so memorable proves almost impossible.
Die Hard 4.0 (opens in new tab) (2007) 'You're a Timex watch in a digital age' Timothy Olyphant's mad computer hacker tells Willis's McClane as he shuts down the entire US computer infrastructure on the Fourth of July weekend. Back on screen for the first time in more than a decade, Willis's hero now has to play nursemaid to geeky teen sidekick Justin Long but does get to down a helicopter with a car.
Released on Blu-ray on Monday 9th April by Twentieth Century Fox Home Entertainment.
Win the Die Hard Quadrilogy on Blu-ray! (opens in new tab)
Get the What to Watch Newsletter
The latest updates, reviews and unmissable series to watch and more!