Blu-ray review | Lifeforce (1985) | Tobe Hooper's space vampires sci-fi restored for a new generation of fans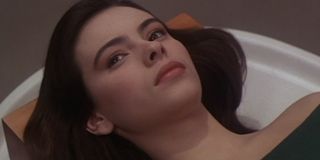 THE STORY Three aliens in suspended animation are brought back to Earth from their dying spacecraft hidden inside Halley's Comet. But while undergoing examination by a team of British scientists, the aliens - cloaked as perfect humanoid specimens - escape by feeding on the lifeforce of their captors. Running amok in London, the vampire trio create an epidemic that turns the populace into soul-sucking ghouls. With the alien's spacecraft on a collision course for Earth, only one man can stop them - shuttle crew survivor (Steve Railsback), who has a strange connection with the alien's leader (Mathilda May).
THE LOWDOWN Tobe Hooper's 1985 adaptation of Colin Wilson's 1976 novel The Space Vampires was the American director's big-budget homage to Hammer, fusing the 1950s sci-fi of the Quatermass films with the pert eroticism of their 1970s-made gothic bloodsuckers like The Vampire Lovers. Despite an editing hack job by the film's purse-holders, Hooper's Poltergeist follow-up is a delightfully insane sci-fi horror blockbuster.
There's the stellar cast of wildly over-acting British thespians - including Peter Firth, Aubrey Morris, Frank Finlay and Patrick Stewart, a script by the Dan O'Bannon, who penned Alien, stunning make-up effects - the animatronic corpses are the highlight, John Dykstra's superb special effects, and Mathilda May's unforgettable nude vampire. If you've never seen this, then you are in for a surprise. If you are already a fan, then this restored release is a must-have. The only thing missing (besides a full-on director's cut) is Henry Mancini's classic music score.
THE RELEASE The Arrow Video (region B) release includes a HD Blu-ray presentation of both the international and theatrical versions, transferred from original elements by MGM with supervision by director Tobe Hooper. The amazing extras includes audio commentaries with Tobe Hooper, visual effects artist Douglas Smith and make-up effects artist Nick Maley; a making-of featurette, and new interviews with Hooper, Mathilda May and Steve Railsback.
http://www.youtube.com/watch?v=07qiX-ytQEU&fs=1
Get the latest updates, reviews and unmissable series to watch and more!
Thank you for signing up to Whattowatch. You will receive a verification email shortly.
There was a problem. Please refresh the page and try again.