Blu-ray review | The Fury (1978) | Brian De Palma's underrated telekinetic terror deserves a revisit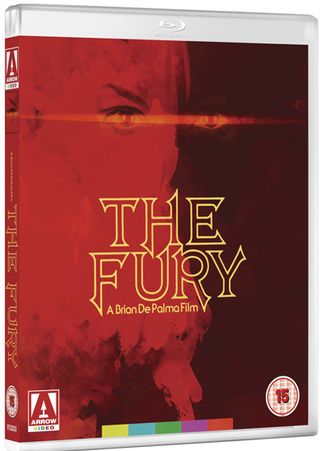 THE STORY Discovering she has psychic powers, teenager Gillian (Amy Irving (opens in new tab)) volunteers to attend a research clinic, which turns out to be under the control of an intelligence organisation, headed by Ben Childress (John Cassavetes (opens in new tab)), who want to turn her gift into a weapon. Using her powers, Gillian then helps Peter Sandza (Kirk Douglas (opens in new tab)) find his telepathic son Robin (Andrew Stevens (opens in new tab)), who has also been kidnapped by the nefarious Childress...
THE LOWDOWN Although The Fury (opens in new tab) didn't take the box-office by storm on its release in 1978, Brian De Palma (opens in new tab)'s telekinetic thriller has a lot going for it. You've got Hollywood heavyweight Kirk Douglas as the often-shirtless hero Peter (he looks amazingly fit at 61), John Cassavetes (of Rosemary's Baby fame) as the villainous Childress, and the future Mrs Steven Spielberg, Amy Irving, as the terrified teen Gillian - who helps Peter search for his son, who is being brainwashed and seduced by a wicked temptress played by the excellent Fiona Lewis (opens in new tab).
Featuring one of the best-ever scores from composer John Williams (opens in new tab), some great make-up effects from the legendary William Tuttle (opens in new tab), and some of De Palma's most outstanding cinematic flourishes, The Fury sounds and looks brilliant in this newly-restored print and is so deserving of critical reappraisal and a revisit.
THE ARROW VIDEO RELEASE Arrow Video (opens in new tab)'s 35th-anniversary edition comes with a selection of new special features and bonus material (listed below), as well as an in-depth collector's booklet.
• Blood on the Lens - A revealing interview with cinematographer Richard H Kline (opens in new tab). • Spinning Tales - A rare interview with actress Fiona Lewis. • The Fury, A Location Journal - A hugely enjoyable behind-the-scenes interview with former intern (now film director) Sam Irvin (opens in new tab). • Original archive interviews from the 1978 promotional tour, featuring Brian De Palma, producer Frank Yablans (opens in new tab) and stars Carrie Snodgress (opens in new tab) and Amy Irving. • Double Negative - Short film tribute to Brian De Palma by Sam Irvin, starring The Phantom of the Paradise's William Finley (opens in new tab) http://youtube.com/v/KFqplLGM2o4
Thank you for signing up to Whattowatch. You will receive a verification email shortly.
There was a problem. Please refresh the page and try again.