Blu-ray review | The Mummy (1959) | The Hammer horror casts its aura of menace in HD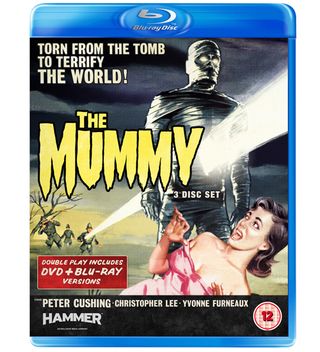 THE STORY In 19th-century Egypt, a team of British archaeologists locate the tomb of Princess Ananka, but disregard local custom and plunder it. The men soon regret their arrogance when, back in England, they are tracked down by Kharis (Christopher Lee), a mummy who has been brought back to life by religious zealot Mehemet Bey (George Patell) to avenge the desecration of the tomb. After his father and uncle succumb to Kharis, John Banning (Peter Cushing) prepares to do battle with the mummy. However, he hasn't counted on his wife Isobel (Yvonne Furneaux)'s resemblance to the Princess, which threatens to confuse the vengeful Kharis...
THE LOWDOWN In the late-1950s, Hammer followed their reboots of Universal's The Curse of Frankenstein and Dracula with The Mummy, in which screenwriter Jimmy Sangster fused the 1932 Boris Karloff version with Universal's 1940s Mummy series.
Swathed in bandages, Christopher Lee makes a powerful, fast-moving mummy, using just eye movements to project real menace and pathos. For a third time, he is paired with Peter Cushing, who puts in a cultured, physical performance as the heroic archaeologist sporting a gammy leg. Together, Lee and Cushing formed horror's finest teaming that would continue for another 16 films for Hammer.
Thanks to director Terence Fisher's canny colour palette and camerawork, The Mummy achieves a macabre aura of menace that the 1940s films never quite captured. And big kudos goes to Jimmy Sangster's script, whose biting remarks on colonialism and commercialism are just as relevant today.
THE RELEASE The warmly saturated colours of this 1950's Technicolor adventure really come to the fore in the new digital re-mastering, making this a worthy companion to last year's Hammer horror releases, The Curse of Frankenstein and Dracula. The Mummy is presented here in its original UK theatrical 1.66.1 aspect ratio and looks terrific.
With Hammer experts Marcus Hearn and Jonathan Rigby on board (they also supply the audio commentary), the exclusive content will be of enormous interest to die-hard Hammer fans. Also included in the 3-disc double play release is an alternate full frame 1.37.1 aspect ratio version of the film; Terence Fisher's little-seen 1952 crime drama Stolen Face, a World of Hammer episode featuring Peter Cushing, HD archive/stills gallery, an original industry promo reel restored to HD and collector's booklet.
DID YOU KNOW? The sarcophagus of Ananka, which toured the UK on the film's release, now resides in the basement stores of the Perth museum in Scotland.
Released 14 October on Blu-ray and DVD from Icon Film Distribution
The Mummy also screens at the BFI Southbank on Thursday 31 October and Saturday 2 November as part of the Gothic: The Dark Heart of Film season. (click here for details http://youtube.com/v/nTnkLTRR6v8
Get the latest updates, reviews and unmissable series to watch and more!
Thank you for signing up to Whattowatch. You will receive a verification email shortly.
There was a problem. Please refresh the page and try again.