Breaking news: Sherlock Holmes has a heart!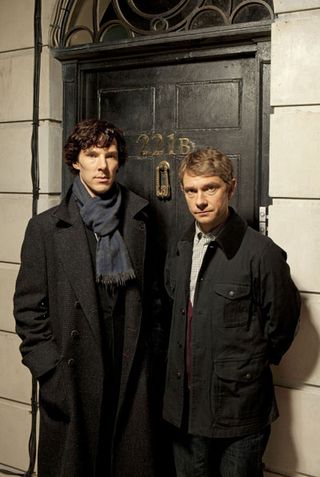 (Image credit: BBC/Hartswood Films)
Benedict Cumberbatch reveals what's in store for Sherlock in the new series, which starts on BBC One on New Year's Day... How has Sherlock Holmes and John Watson's relationship developed since we last saw them? "They've been working together for about nine months now and they have an understanding. John seems a little bit more in control of the relationship and better at keeping Sherlock in check - but Sherlock's still capable of surprising and shocking him!" Is Sherlock better behaved and more considerate of people's feelings as a result of John's influence? "Without giving too much away, I think there's definitely a level of humanisation to him, but we're still remaining true to this incredible man. He is a calculating, logic machine who finds solutions in the everyday by not being involved in the everyday. There are still many moments where he's being a complete sociopath and low spectrum autistic, in the sense of not understanding or having any idea what empathy is." The first series was very well received. Does this pile pressure on the second series? "Knowing we had such a nice reception first time round, expectations are high. We want to keep it evolving as much as we can, within the parameters we've set ourselves which include being loyal to the original. It moves on, but hopefully people who wanted to see more of the original will not be disappointed!" In this new series you tackle some of the most iconic Sherlock Holmes stories. Has that been enjoyable? "We're very excited! It's increased the weight of expectation, but it's brilliant because these are stories everyone is familiar with. Of course it comes with trepidation and responsibility - people have very set ideas in their minds about these stories. It's a big step, but the scripts are fantastic, brilliantly imaginative, witty and loyal to the intention of the originals, while being thoroughly fresh." Sherlock's only intellectual equal is Jim Moriarty; will there be more scenes with Andrew Scott, who plays him, this series? "Yes! It's nice for Sherlock to have an equal in the room. Sherlock and Moriarty are definitely on a more even playing field - it's a nice game of tennis! Andrew and I are great friends, I've always admired his talent, he's a phenomenal actor, and it's a joy to those scenes with him." In this week's opening episode Sherlock has a surprise love interest - dominatrix Irene Adler. Will we be seeing a different side to the sleuth throughout the three episodes? "What, all soppy with chocolates and roses, dim lighting and music? We definitely want to be bold enough to evolve him, but you have to be careful about moving him so far away from the original that he becomes something utterly new. Sherlock's a very established fictional character and there's a reason for that - it works. I think if you meddle too much with the mechanics, it all comes undone." What has the success of Sherlock meant for you personally? "It's been fantastic. Fame is a strange thing. It's weird what it does to your life. Your privacy has to be something you protect and value in a different way to before. But you get to enjoy the most extraordinary perks and new experiences, from presenting programmes [Have I Got News For You] to having a voice in the political field. And all because people enjoyed seeing you play a detective for three nights last summer! It comes with both great privileges and great obstacles. It's also odd being recognised for a fictional character, rather than myself!"
Get the latest updates, reviews and unmissable series to watch and more!
Thank you for signing up to Whattowatch. You will receive a verification email shortly.
There was a problem. Please refresh the page and try again.