'I broke her down and she confessed' says Killer Women host Piers Morgan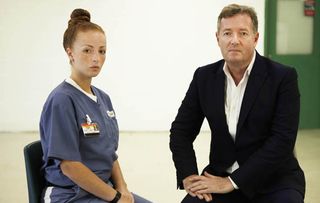 The This Morning presenter has been speaking to some of the most dangerous ladies in America...
Piers Morgan sips a cup of tea and relaxes into the plush sofa as we sit in a posh hotel on London's South Bank. He has just returned from the US where he's been filming the second series of Killer Women with Piers Morgan, and is eagerly telling TV Times about one of the most memorable moments of the five-part series.
"One of the films is about a woman who murdered a lady in cold blood, who she'd never even met before," he said. "She always said that her husband persuaded her to do it, but over the course of a couple of hours I managed to break her down and she confessed that it had all been her idea."
Piers is discussing his meeting with Ashley Humphrey, who in 2003 followed Sandra Rozzo home from work and shot her eight times at point blank range, before calmly calling her husband to ask him to order her a pizza.
"I think Ashley felt relieved to finally confess," explained Piers as he looked back on an encounter that obviously stayed with him."'For me this show is the ultimate journalism. You're basically trying to unravel a heinous crime and trying to get inside the head of someone to work out why they did this terrible thing. The moment when Ashley admitted the full truth was amazing. That's the challenge, to get to the truth of why they did it."
Ashley is one of five convicted female murderers Piers will be speaking to in this series and while each case is savage in its own way, they are all very different. Piers tells us more…
Do you enjoy making Killer Women for ITV?
"I love doing them. They're like no pieces of TV I've ever done. I've spent most of my life interviewing politicians or royals or celebrities, but not murderers. Female murderers are even more interesting because women don't kill very often, so they're unusual. Yet when you meet them they're very unassuming and they look normal. They're very polite, but you just know they've committed unspeakable crimes. The hairs stand up on your neck a bit. It's unlocking why and how that's happened that I find that fascinating."
Who's the most dangerous women you speak to this series of Killer Women? "I met a woman named Sheila Davalloo, who I believe is an absolute psychopath. She probably tried to kill her first husband, certainly tried to kill the second husband and definitely killed the lover's girlfriend. She had a fantastic career and seemed very normal, yet she just has this evil streak in her. She's the most dangerous person I've interviewed, no question."
The next woman you interview is Amber Wright (pictured)… "That was a really chilling case. As a 15 year-old she lured her teenage boyfriend to a trailer, where he was beaten, knee-capped, stabbed, burned and then thrown off a bridge, by a group of older boys. She told me she wasn't a bad person and that people were judging her on one bad decision. Going to the supermarket and choosing the wrong pork pie is a bad decision! This poor lad had done nothing wrong and he died in unimaginable circumstances."
As a father, is it difficult hearing stories like that? "I've had three boys going through that age and the idea that because of some screwball girlfriend, that could happen to them. I don't know how you ever forgive it and I'd feel murderous towards the people who did it. The boy's father feels was full of rage, but the mother just showed unbelievable dignity and forgiveness, which is incredibly powerful in the programme. It's almost the most powerful interview of the series, I think. I just wanted to reach out and hug them. They are broken forever – they're never going to get over it."
Do the women recognise you? "Most of them do recognise me from the TV work I've done in the States. I have these random conversations, last time a convicted murderer sang for me because she knew I was a judge on America's Got Talent and wanted to know how I rated her voice. It was surreal and uncomfortable, but made for compelling TV. Some of them know me from CNN and we have random conversations about gun control off camera, then next minute we're talking about them shooting their husbands!"
Are you still vocal about gun control when you're in America? "It just became a problem because there so many massacres, it was all I ended up talking about. In the end lots of Americans were like: 'Who are you to tell us how to live?'"
Have you ever thought of making a British version of the Killer Women? "You can't get the access because they won't let you interview killers in Britain. I'd love to do it, but it won't happen. It would be fascinating. In America they give you all the interviews tapes, there are cameras in the courts, crime scene photos, you can get everything. So you can almost be like a detective yourself and piece it all together."
Is it good or bad that we don't get that in Britain? "It's an interesting question. We're getting cameras in courts soon and I'm not sure it's a good idea. What it tends to do is turn criminals into TV stars and they all want to be celebrities. These people aren't celebrities they're killers."
Killer Women screens at 9pm on Thursdays on ITV
Get the What to Watch Newsletter
The latest updates, reviews and unmissable series to watch and more!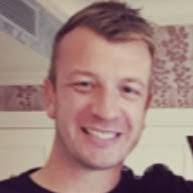 Feature writer for TV Times, What's On TV, TV & Satellite Week and whattowatch.com
Sean has been writing about all things telly for over 10 years and in that time he's been lucky enough to interview stars like Ian McKellen, Tom Hardy and Kate Winslet. His favourite shows are The Great British Bake-Off, People Just Do Nothing and Succession and in his spare time he enjoys drinking tea, doing crosswords and watching football.